Have you been told you have vasculitis, a rare autoimmune condition that can lead to devastating complications? Find out what causes it, its symptoms, and what your functional medicine doctor can do to help you heal. Click below to watch the free webinar on autoimmune disorders.
Autoimmune vasculitis is a condition that causes inflammation in your blood vessels. If you don't get adequate treatment, you may experience serious complications that could affect your entire body. However, with functional medicine treatment, you can find out the root cause, get help addressing those issues, and regain your health.
Introduction to Autoimmune Vasculitis
Vasculitis is a rare condition that affects the blood vessels, causing inflammation. Over time, vasculitis will increasingly cut off the supply of blood to your body's vital organs. Vasculitis can affect every part of your body, including the lungs, nerves, brain, skin, and kidneys.
There are actually many different types of vasculitis, and one type is an autoimmune disease. Here's what you need to understand about the symptoms, root causes, and functional medicine treatment options for autoimmune vasculitis.
Symptoms
The general symptoms of vasculitis may be easy to ignore at first, or you might attribute the symptoms to stress, exhaustion, or getting older. The most common symptoms for most types of vasculitis are:
Headache
Fever
Unexplained weight loss
Fatigue
Night sweats
Aches and pains
Other symptoms can be much more alarming. Depending on what parts of your body are affected, you might experience any of the following signs of vasculitis.
Pain after eating
Blood in stool
Dizziness
Ringing in ears or hearing loss
Red, itching, or burning in the eyes
Double vision
Temporary blindness in one or both eyes
Weakness or numbness in hands and feet
Swelling or hardening in palms of hands or soles of feet
Shortness of breath
Coughing up blood
Bleeding under your skin, causing red spots
Lumps or sores on the skin
If you notice several of these symptoms, it's important to seek help, ideally before the condition worsens or causes damage. At Tri-Cities Functional Medicine, Dr. Radawi listens to your symptoms and may order tests to dig deeper and identify the cause behind them.
Has a doctor failed to do anything to relieve your symptoms of vasculitis? Learn how we can help by reading our blog, Functional Medicine Treatment for Chronic Disease: When a Doctor Says There Is Nothing Else They Can Do.
Causes
Vasculitis may suddenly appear after certain events, or you may not be aware of what started it. Some of the things that can cause autoimmune vasculitis are:
Infections like hepatitis B or C
Blood cancer
Another autoimmune disease
Reactions to a drug
Other contributing factors could include:
Chronic stress
Genetics
Gut health issues
Nutrient deficiencies
Poor diet
Exposure to toxins
Food allergies
Functional medicine focuses first on finding the causes of your vasculitis before creating a treatment plan to address it. Dr. Radawi searches for the cause, relying on his training in functional medicine, an in-depth medical/lifestyle history, vitals and body composition analysis, and any lab tests that will shed light on your condition.
Is Vasculitis an Autoimmune Disease?
One type of vasculitis is autoimmune vasculitis. Like with other autoimmune diseases, autoimmune vasculitis prompts your body to react to its own parts as if they were foreign invaders. Therefore, it attacks your body, and in this case, your blood vessels.
While you may have autoimmune vasculitis as a part of the overall picture of another autoimmune disorder, it can also appear alone, as a distinctive disease.
Read our blog, What Is Inflammatory Arthritis? Your Immune System and Joint Pain Explained, to learn more about how autoimmune diseases work.
Long-Term Complications
If autoimmune vasculitis goes unchecked, it can greatly reduce your quality of life. Over the long term, people with untreated vasculitis may suffer from any of the following complications.
Ulcers
Perforated colon
Severe damage to your major organs
Blood clots
Aneurisms
Permanent blindness
Frequent infections
If you have or might have vasculitis and want to prevent these complications from happening to you, your best option is to consult with a doctor who is skilled in providing holistic treatment for your overall health. Dr. Radawi began his career as a traditional doctor in emergency medicine before he became interested in functional medicine as a way to help people regain their overall health, rather than treat the symptoms only.
Functional Medicine Treatment for Vasculitis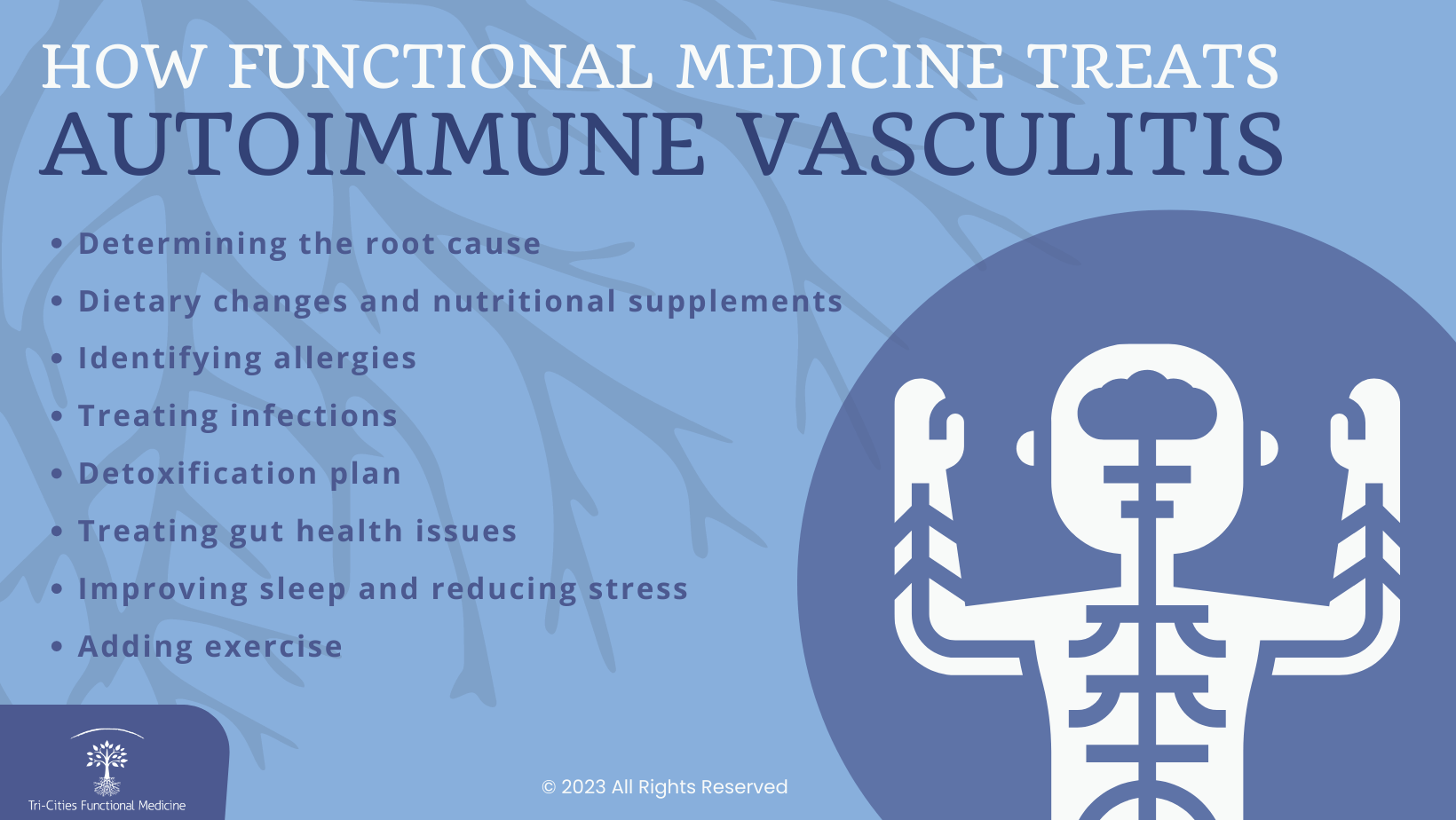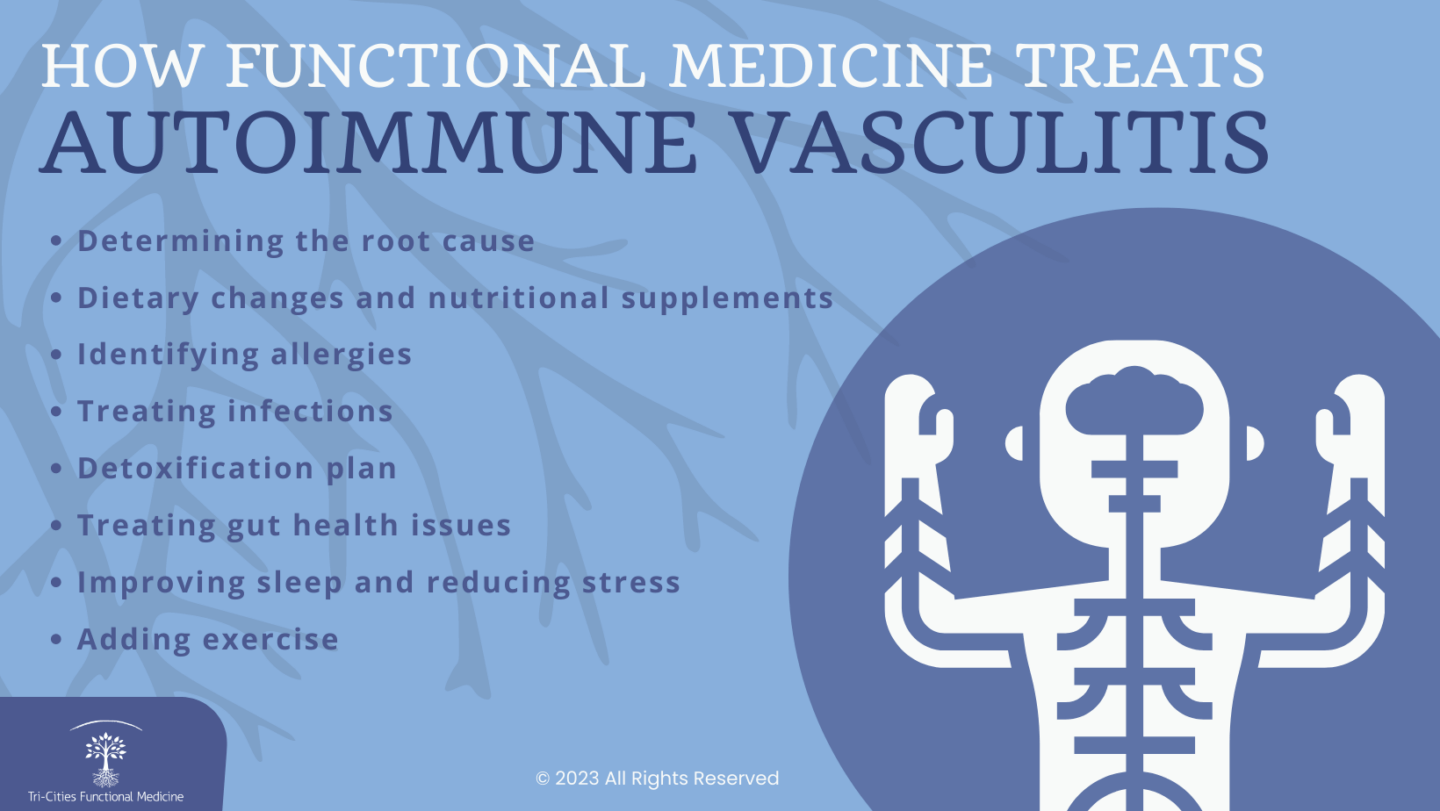 Functional medicine is different from traditional medicine in that the focus is on healing rather than symptom relief. In addition, functional medicine is holistic, treating you as a whole person who needs good health overall. Therefore, a functional medicine treatment plan for vasculitis will be significantly different from what a traditional doctor would recommend.
In most cases, a traditional doctor would prescribe a medication that reduces the symptoms without addressing the root cause. Functional medicine, on the other hand, starts by determining the root cause and continues with treatments that improve your whole-body health.
Making Better Dietary Choices
A part of what our health coaches do is to guide you in choosing the right foods to improve your health. If you have autoimmune vasculitis, we may advise you to eat whole foods and foods that have anti-inflammatory properties. The idea is to use the food you eat to nourish your body in the healthiest way to improve your overall wellness. At Tri-Cities Functional Medicine, we recommend specific dietary changes that will benefit you as a unique individual.
Finding and Treating Hidden Infections
Hidden infections can be a cause or a result of autoimmune vasculitis. Either way, eliminating the infections will improve your overall health. That's why we watch for signs of infection and, if needed, order tests to determine if you have infections. Then, we incorporate this knowledge into your personal treatment plan to treat it holistically, with dietary and lifestyle changes and nutritional supplements.
Identifying Food Allergies
If food allergies are the trigger that started your vasculitis, it's important to know what you're allergic to and avoid those foods. So, a part of functional medicine treatment for vasculitis might include identifying allergies and removing those foods from your diet.
Detoxification
Exposure to toxic substances can contribute to or cause vasculitis. As part of your functional medicine plan, we might check for such exposure and create a detoxification plan to eliminate the toxins from your body. This plan can include drinking lots of clear water, eating clean foods, and taking nutritional supplements.
Improving Gut Health
Addressing gut health issues can make a significant improvement in your vasculitis. This can include removing the foods that are causing your gut health issues. Then, you need to replace any low or lost enzymes so that your body can break down foods properly. We then recommend ways to rebuild your gut flora or the good bacteria in your gut. Finally, we help you develop a plan to rebalance your life, ensuring that you have a good work-life balance and have a game plan to mitigate stress.
Want to know how you can improve your gut health? Find out in our blog, 5 Common Gut Issues a Functional Doctor Can Help Treat.
Adding Supplements
The modern diet typically fails to supply you with all the nutrients you need each day. That's why we recommend specific supplements based on your individual needs. If you have autoimmune vasculitis, Dr. Radawi and the Tri-Cities Functional Medicine team will guide you to the best supplements to improve your overall condition.
Getting Enough Exercise and Sleep
Everyone needs both enough exercise and adequate sleep. The wrong amount of either can increase inflammation, adding to your vasculitis woes. Our team can work with you to create an appropriate exercise program and develop a better sleep schedule. We can assist you in developing the habits you need to improve your general well-being and promote healing from your vasculitis.
Are you fighting an uphill battle trying to change your lifestyle? Check out our blog, Struggling to Change Your Lifestyle? The Role of Functional Medicine Health Coaching.
Reducing Stress
Reducing stress is an important goal for anyone, but it's especially beneficial for those with autoimmune disorders. Whether you reduce stress through meditation or prayer, exercise, walking in nature, deep breathing, or muscle relaxation techniques, your renewed calmness will have a positive effect on your healing.
You can learn more about the functional medicine approach in our blog When Medicine Doesn't Work: Find Healing with Functional Medicine.
Your Tri-Cities Functional Medicine Team Can Help!
Whether you have or suspect you have autoimmune vasculitis, our team at Tri-Cities Functional Medicine is here to help. We see you as a whole person and treat your underlying conditions rather than only addressing your symptoms.
You don't have to live with a debilitating condition, always hoping that it doesn't get worse. Instead, you can have professional treatment that recognizes your need for good overall health and well-being. We are here to help you and inspire you to live your best life, now and in the future.
Here's how you can take the first step toward healing from an autoimmune disease like vasculitis:
Watch our free webinar to learn about how we approach autoimmune diseases.
Schedule a free discovery call to discuss your health concerns and goals to see if our practice is a good fit for you.
After your discovery call – If we are a good fit, you'll schedule a consultation with our doctor to dive deeper and formulate an individual treatment plan for you.
Tri-Cities Functional Medicine is located in Johnson City, Tennessee, and serves patients throughout East Tennessee and into Virginia and North Carolina. These areas include but are not limited to: Washington County, TN, Sullivan County, TN, Carter County, TN, Greene County, TN, Knox County, TN, Bristol, TN, Holston Valley, TN, Tri-Cities, TN, Walnut Hill, TN, Elizabethton, TN, Greeneville, TN, Morristown, TN, Blountville, TN, Bluff City, TN, Kingsport, TN, Jonesborough, TN, Colonial Heights, TN, Limestone, TN, Knoxville, TN, Bristol, VA, and Abingdon, VA