Do you worry about memory lapses or cognitive decline? Read this blog to discover how blood sugar and cognitive function are related and how functional medicine can help you improve your brain health.
Many people don't realize that blood sugar and cognitive function are strongly connected. If you want to enjoy good brain health, then, you need to be sure that your blood sugar is under control. Although you might not have considered it before, having high blood sugar can have serious consequences for your brain. In this blog, we'll discuss how functional medicine addresses these issues to improve your brain health.
How Are Blood Sugar and Cognitive Function Related?
Your brain needs sugar to function. In fact, because your brain is so densely filled with nerve cells, it uses about half of the sugar in your body. Therefore, if your blood sugar is too low to give your brain the energy it needs, the brain slows or stops producing neurotransmitters. This dip in production causes the communication between cells to break down. As a result, you'll likely have trouble paying attention, and your cognitive abilities will falter.
Now, what if you have too much sugar in your blood? That can be even worse for the brain, as well as for the rest of your body. When your blood sugar is too high, you begin to have problems with memory and other cognitive functions. You may experience declines in learning, spatial relationships, and signaling between different parts of the brain that normally work together.
For those with diabetes, the long-term consequences can be the most severe. If you have high blood sugar for too long and too often, your brain begins to shrink and atrophy. It can also affect the flow of blood through your brain and lead to vascular dementia.
Are you concerned that your diabetes is keeping your blood sugar too high too often? Find out how functional medicine can help with chronic diseases in our blog, Functional Medicine Treatment for Chronic Disease: When a Doctor Says There Is Nothing Else They Can Do.
Functional Medicine Goals to Improve Cognitive Function
While declining cognitive function can be a scary thing, there are things you can do to address blood sugar issues and improve your brain health. At Tri-Cities Functional Medicine, we take a holistic and systematic approach to restoring balance in your body. Rather than struggling with blood sugar highs and lows, you can keep your body at its best.
We find the root cause of your high blood sugar and cognitive dysfunction, and then we work with you to meet your goals. The following are some of the goals we might reach for if you are concerned about your brain health.
Supporting cognitive health
Maintaining healthy blood sugar levels
Developing a custom diet and exercise plan
Addressing memory issues
Optimizing brain health
Improving your overall health and well-being
The Functional Medicine Approach to Brain Health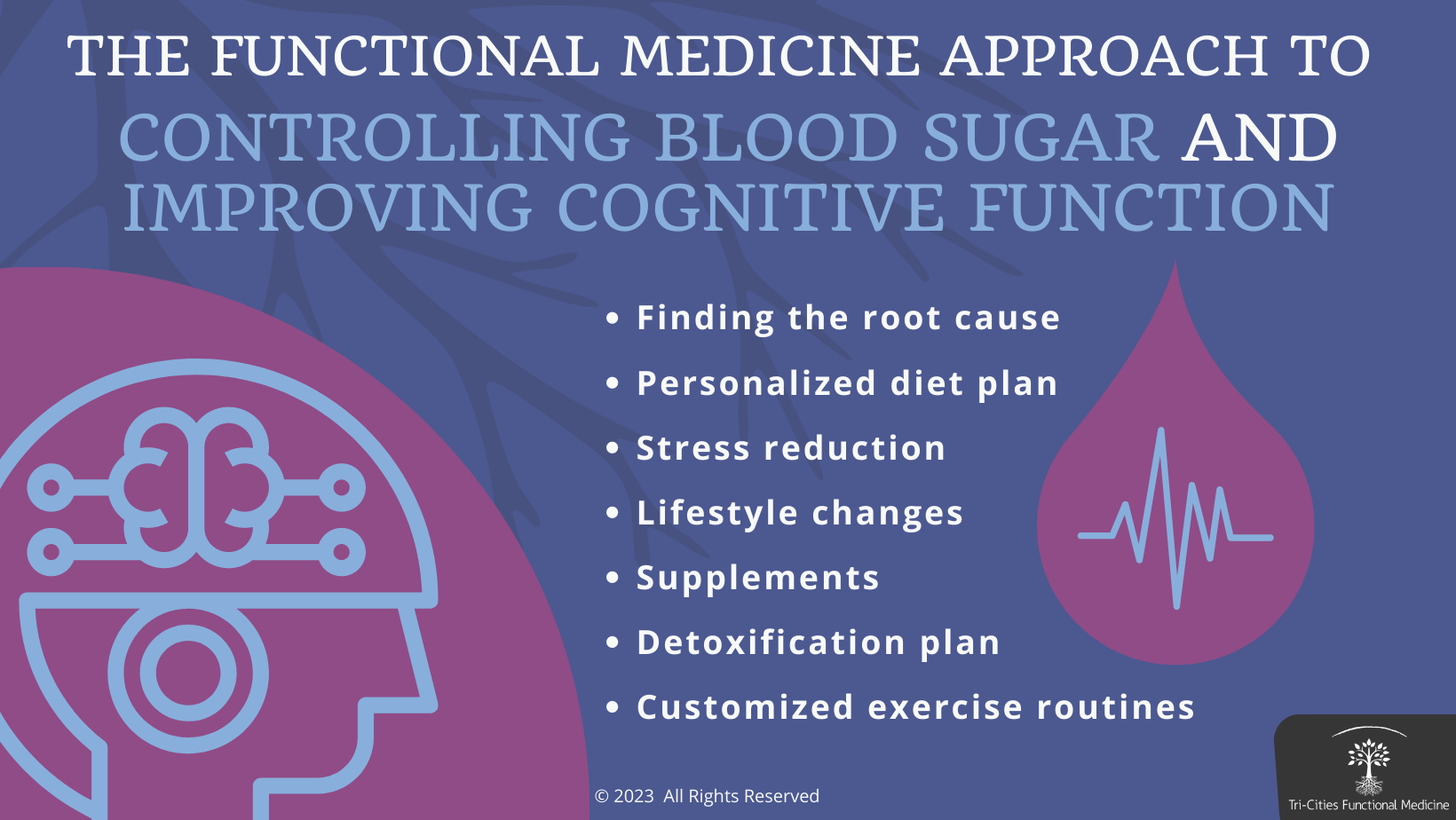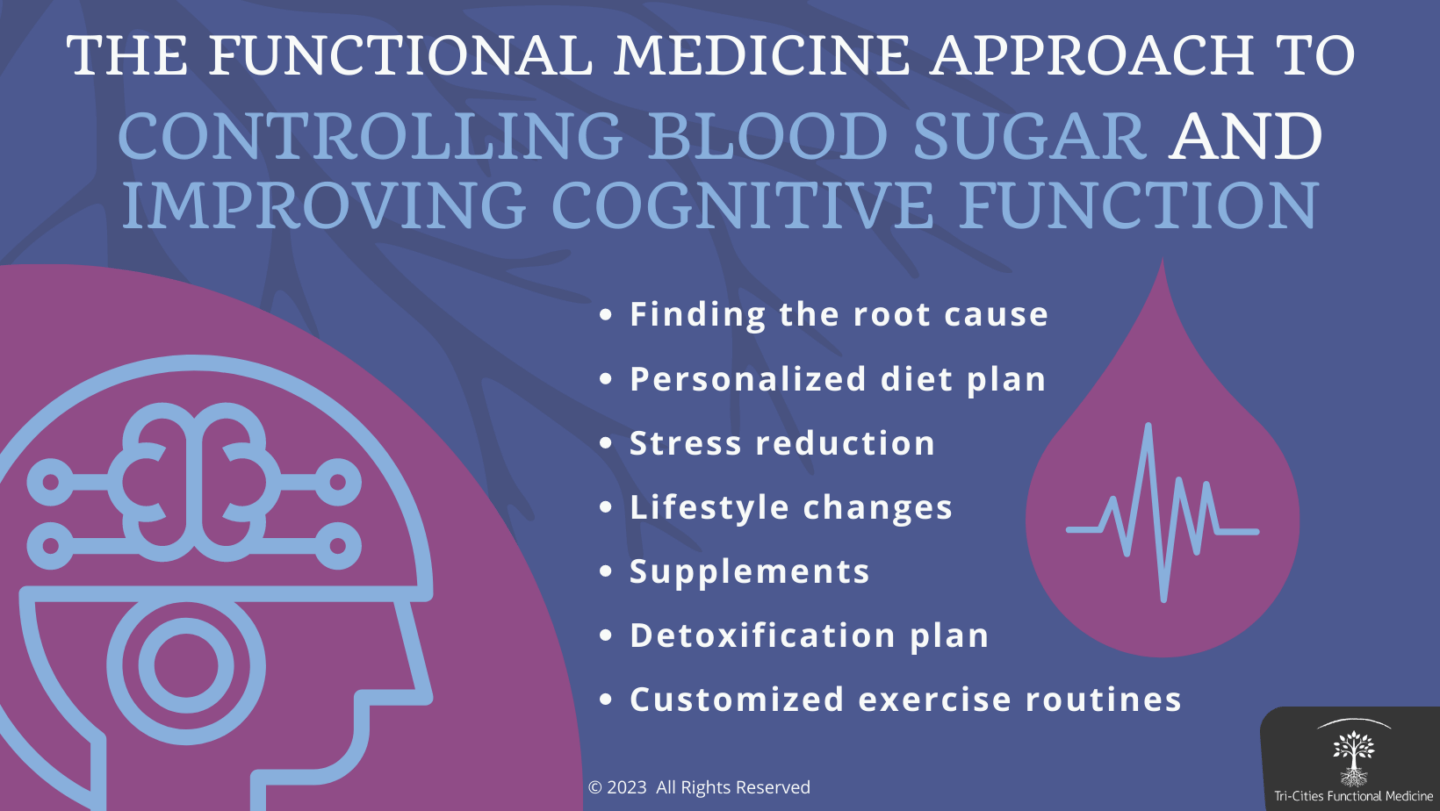 The functional medicine approach to brain health is a holistic approach that starts by finding root causes. You may have noticed cognitive issues but didn't realize that your blood sugar was too high. Or, you might have been aware that you had high blood sugar but feel like you're already doing everything you can do. Don't worry! Whatever is keeping you from enjoying good brain health, we will get to the bottom of it and guide you toward steps that improve your cognitive function.
Dietary Changes
Blood sugar is closely related to diet. So, eating the right foods, in reasonable amounts, should help you lower your blood sugar. It's not just about eating less sugar, though. You also need to get enough fiber, eat fruits and vegetables that nourish your body, and get the right amounts of all the nutrients.
Planning dietary changes can be complex and confusing. However, the Tri-Cities Functional Medicine team can help you make better choices to improve your overall health and your brain function at the same time.
Would you like to learn how functional nutrition works? Check out our blog, Functional Nutrition: A Holistic Look at Your Diet.
Stress Reduction
High levels of stress can cause your blood sugar to rise, especially if the stressful situation lasts a long time. We can recommend many methods of reducing stress, including:
Exercise routines
Meditation
Muscle relaxation exercises
Supplements that can help calm you
Massage
Getting enough sleep
While we can't necessarily change the situation that is causing you stress, we can teach you how to manage it so that it doesn't overwhelm you. Then, it will be easier to keep your blood sugar in a healthy range.
Want to learn how exercise can help reduce stress? Find out in our blog, Living with Chronic Stress? How an Exercise Routine Can Help.
Lifestyle Changes
A functional medicine approach includes helping you make positive lifestyle changes. These can include:
Starting a healthy exercise routine
Quitting smoking
Reducing or stopping drinking alcohol
Keeping a regular sleep schedule
At Tri-Cities Functional Medicine, we offer health coaching to help you make the changes that are most important to your wellbeing. You start by contemplating the changes you want to make and how to make them. Next, prepare you to change your habits, outlining specific steps you will take. Then, you arrive at the action stage, when you begin practicing the new habit. Finally, you reach the maintenance phase, when you continue to monitor your progress, make adjustments if needed, and enjoy the benefits of getting healthier day by day.
Do you need help making lifestyle changes? To find out how we do it, read our blog, Struggling to Change Your Lifestyle? The Role of Functional Medicine Health Coaching.
Supplements
Eating the right foods in the right portion sizes is a very good start. However, you may need extra vitamins or other supplements to promote brain health and reduce high blood sugar. Therefore, when you come to Tri-Cities Functional Medicine, we take your current condition into account to determine what kinds of supplements will benefit you the most. As you take them, you will begin to process food more efficiently, heal your body, and lower your blood sugar in the process.
Detoxification
Forget about detoxification fads. At Tri-Cities Functional Medicine, we create customized detoxification plans based on the results of the lab tests you take when you come to us. Targeted detoxification can help you keep your blood sugar under control, clear up your thinking, and relieve symptoms of cognitive decline. Detoxification can include various methods, including:
Eating clean food
Drinking plenty of clear water
Getting fresher air
Working out or sweating in a sauna
Taking supplements to help with the detoxification
Would you like to learn more about the functional medicine approach to detoxification? Read our blog, What Is a Functional Medicine Detox Plan?
How Tri-Cities Functional Medicine Creates Your Customized Treatment Plan
Everyone is different, of course. What raises blood sugar for one person might have little effect on someone else. Some people notice huge cognitive deficiencies with small changes in blood sugar, while others don't feel the same major shift. That's why at Tri-Cities Functional Medicine, we create a customized treatment plan for each person.
With your specific needs in mind, Dr. Radawi develops a plan to get you started. Then, depending on your progress, we can make changes as appropriate. We're with you all the way, as you take better control of your health, your blood sugar, and your cognitive function.
At Tri-Cities Functional Medicine, we help people with chronic diseases who need more assistance than traditional medicine offers. Dr. Joseph Radawi, our Medical Director, worked in traditional medicine as an ER doctor for over ten years before moving into functional medicine, where he can help people regain their physical health and overall well-being.
Today, Dr. Radawi works with his team of Health Coaches and staff at Tri-Cities Functional Medicine to provide a better alternative for people with health problems like reduced cognitive function. We want you to live a more abundant life while enjoying the benefits of excellent health.
Want to learn more about how functional medicine could help you control your blood sugar and improve your cognitive function? Take the first step:
Watch our free webinar to learn about our approach to the brain health concerns you are facing.
Schedule a Free Discovery Call to discuss your health concerns and goals to see if our practice is a good fit for you.
After your discovery call – if we are a good fit, you'll schedule a consultation with our doctor to dive deeper and formulate an individualized treatment plan for you.
Tri-Cities Functional Medicine is located in Johnson City, Tennessee, and serves patients throughout Tennessee and into Virginia, North Carolina, West Virginia and Kentucky. These areas include but are not limited to: Washington County, TN, Sullivan County, TN, Carter County, TN, Greene County, TN, Knox County, TN, Bristol, TN, Holston Valley, TN, Tri-Cities, TN, Walnut Hill, TN, Elizabethton, TN, Greeneville, TN, Morristown, TN, Blountville, TN, Bluff City, TN, Kingsport, TN, Jonesborough, TN, Colonial Heights, TN, Limestone, TN, Knoxville, TN, Bristol, VA, Abingdon, VA, Grundy, VA, Asheville, NC, Boone, NC.