MeRT is one of the new therapies for autism as well as many other brain conditions. This treatment shows great promise as a tool to improve the lives of people with autism. In fact, Tri-Cities Functional Medicine in Tennessee has recently added this exciting new treatment. Here is how MeRT can help children with autism improve their capacity for better social skills, cognitive abilities, mood, and more.
Searching for the best options for help with autism? Watch our free MeRT webinar to get started.
Autism: A Developmental Brain Disorder
Autism is a developmental disorder that is usually diagnosed in children, though some people don't know they have it until adulthood. Because autism affects a child's brain development, early interventions are the most helpful.
So, what is it like to have autism? Every child or even adult who has autism might have a different answer. Certainly, doctors recognize specific symptoms as possible signs of autism. Still, the experience of each individual will be unique to them. That is why at Tri-Cities Functional Medicine in Tennessee, we customize our treatments to each person who seeks our help.
Symptoms of Autism
Autism is a name that covers a very wide spectrum and four distinct subtypes of the condition. If you asked an autism expert to list all the possible symptoms of autism, they could give you an extremely long list. However, the core symptoms fall into two main categories.
First, someone with autism may have challenges with social communication. They may have trouble understanding or using language, gestures, or eye contact in ways that are usually considered appropriate. In addition, they may have trouble expressing or recognizing emotions.
The second category of autism symptoms includes restricted or repetitive behaviors. Repetitive body movements, like rocking or spinning, are common. Also, a person with autism may have ritualistic behaviors like touching objects in a set order. They may have a narrow range of interests but extreme interest in specific subjects. Both categories of symptoms may start at a very early age and interfere with daily living for the person with autism.
MeRT Basics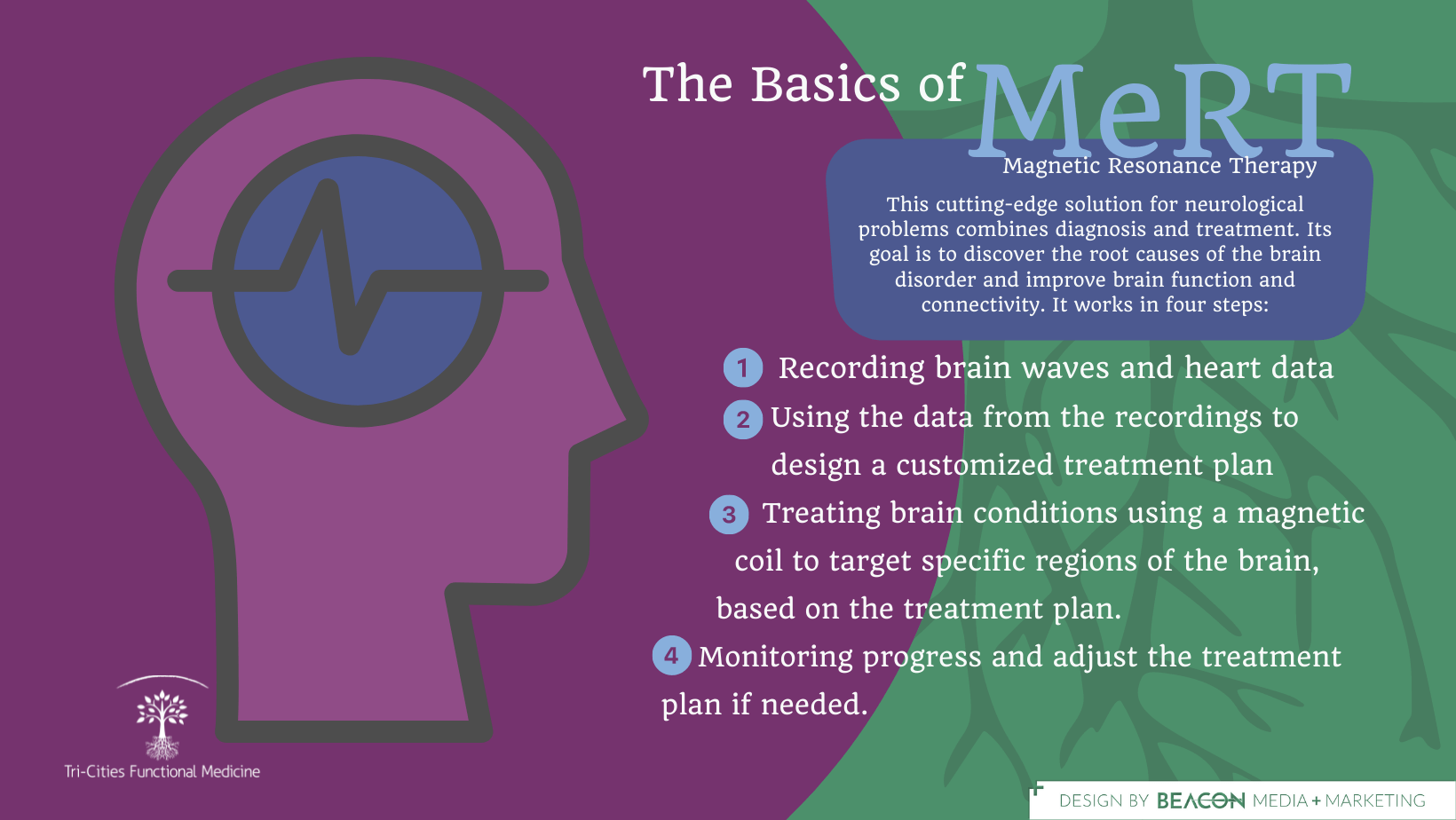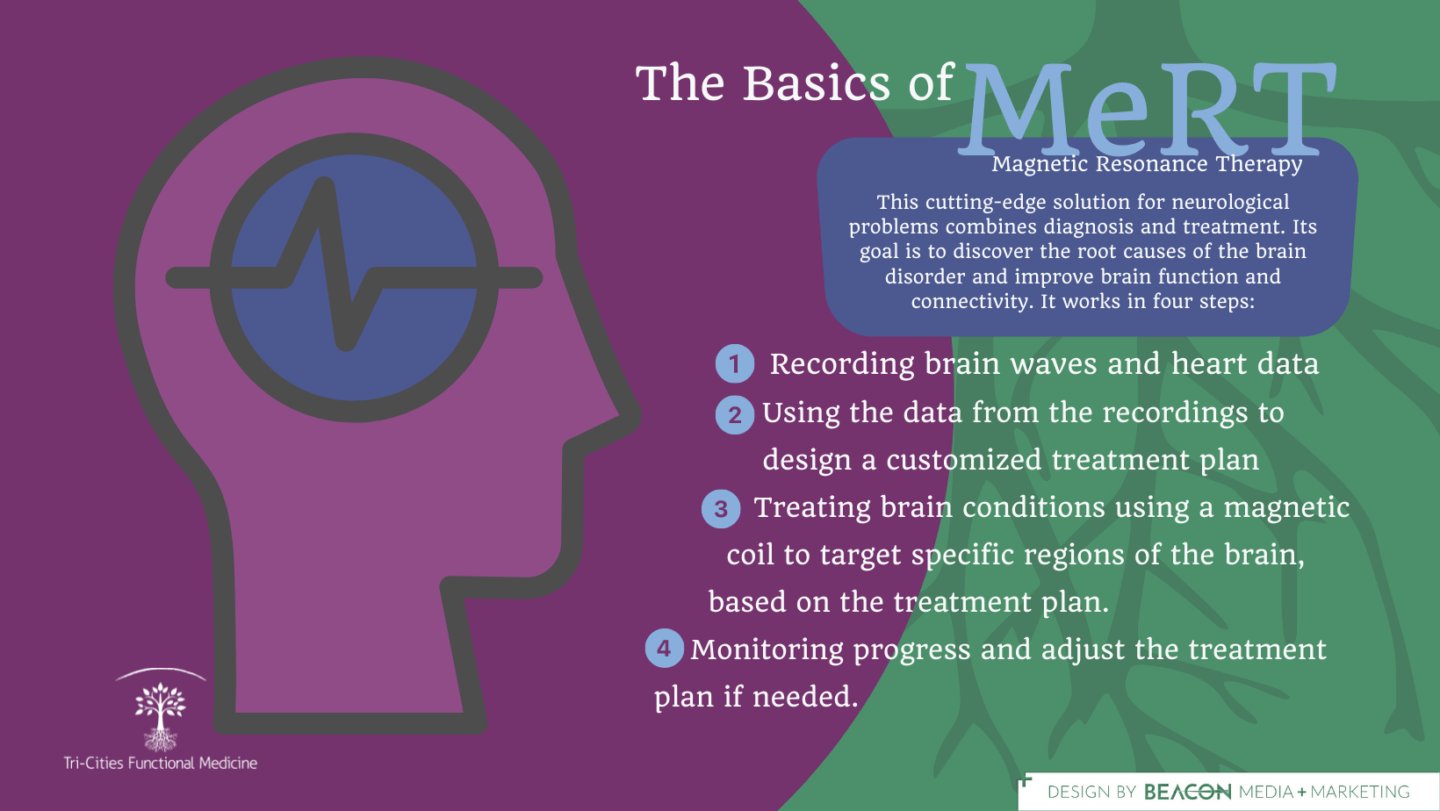 MeRT Therapy is a specific and customized type of Transcranial Magnetic Stimulation. This cutting-edge solution for neurological problems combines brain mapping (to reveal dysfunction) and treatment. Its goal is to discover the root causes of the brain disorder and improve brain function and connectivity. At Tri-Cities Functional Medicine in Tennessee, Dr. Radawi uses a protocol, which includes four phases:
Recording brain waves and heart data
Using the data from the recordings to design a customized treatment plan
Treating brain conditions using a magnetic coil which stimulates neurons in targeted, specific regions of the brain, based on the treatment plan.
Monitoring progress with additional brain maps and adjusting the treatment plan if needed.
MeRT uses quantitative EEGs to map the brain. The recording process is noninvasive; we use a cap containing electrodes and attach electrodes to your ears, and chest. The results of this type of test reveal locations and patterns of dysfunction if any.
After the EEGs are analyzed and reviewed, the treatment can begin. Treatment involves placing a magnetic coil on your head to stimulate your brain precisely as the treatment plan instructs. The magnetic waves stimulate your brain for six to eight seconds per minute for about 30-45 minutes depending on locations stimulated. Then, we monitor you over the course of several weeks as we continue with regular treatments.
How MeRT Helps with Autism
MeRT is a relatively new treatment method for neurological disorders like autism. Yet, this treatment is very well-suited to helping children with autism. Because people with autism tend to have different brain activity and unusual brainwaves, the best way to improve their condition is to heal the brain.
This customized Magnetic Resonance Therapy gets to the source of the issue of decreased neural firing and connectivity. Unlike MeRT, some treatments exclusively address developmental problems from the outside, demanding or trying to coax autistic individuals to change their behaviors themselves. MeRT is different in that it creates positive changes in the brain. These improvements in connectivity make appropriate communication and behavior come easier and more naturally to those with autism.
Is MeRT Safe for Children?
Every loving parent places their child's safety as a top priority. So, it's not surprising if you want to be sure that any new treatment will not only help with your child's autism but do it safely.
Indeed, this new treatment may not be safe for every child. If you read the list of contraindications for MeRT, you will discover that there are some people who can't have these treatments and others who require careful discretion and monitoring. There is no warning based on age however, Tri-Cities Functional Medicine feels it is best to only treat children 3 years of age and older. There is no mention of autism disqualifying someone for treatment. Autistic children can receive these treatments, and many have already achieved dramatic results with MeRT.
At Tri-Cities Functional Medicine in Tennessee, Dr. Radawi and our team evaluate your child to determine if this type of therapy would be safe and effective for them. If they cannot receive this therapy, we can still treat them using functional medicine's many whole-body interventions. In fact, those same interventions, like nutritional guidance and stress reduction, are helpful for autistic individuals who do receive MeRT treatments as well.
The Functional Medicine Connection
MeRT is an excellent treatment for children with autism. It is not specifically a functional medicine treatment. Functional medicine doctors usually tend to choose natural, holistic treatments in a personalized system biology approach based on expert diagnostic testing, in-depth history and physical exam and science-based treatments. The treatments and tools used by Dr. Radawi and his team include:
Targeted Supplementation
Bio-identical hormones
Education and support for Lifestyle changes

Nutrition and Detoxification
Movement and Exercise
Sleep
Stress Transformation
Mental, Emotional and Spiritual well-being

Sauna Treatments
Biomats
Teaching Kitchen classes
Dr. Radawi of Tri-Cities Functional Medicine in East Tennessee recognized right away that this breakthrough treatment had powerful potential to improve lives. At the same time, MeRT fits with the Functional Medicine philosophy of getting to the root cause of conditions rather than putting band-aids on symptoms. Therefore, it made sense to add this innovative therapeutic method to our East Tennessee Functional Medicine clinic's repertoire. In this way, our clinic became a leading brain treatment center.
To this end, Dr. Radawi took advanced clinical training in MeRT to gain the expertise needed to help people with neurological disorders, including children with autism. As the leader of our East Tennesse Functional Medicine clinic, Dr. Radawi is committed to providing compassionate and precision care to help all our patients, including those with autism, optimize their neurological and whole-body wellness.
Want to learn more about how MeRT could help you or a loved one with autism? Take the first step:
Watch our free webinar to learn about our approach to the health concerns you are facing.
Schedule a Free Discovery Callto discuss your health concerns and goals to see if our practice is a good fit for you.
After your discovery call – if we are a good fit, you'll schedule a consultation with our doctor to dive deeper and formulate an individualized treatment plan for you.
Tri-Cities Functional Medicine is located in Johnson City, Tennessee, and serves patients throughout East Tennessee and into Virginia and North Carolina. These areas include but are not limited to: Washington County, TN, Sullivan County, TN, Carter County, TN, Greene County, TN, Knox County, TN, Bristol, TN, Holston Valley, TN, Tri-Cities, TN, Walnut Hill, TN, Elizabethton, TN, Greeneville, TN, Morristown, TN, Blountville, TN, Bluff City, TN, Kingsport, TN, Jonesborough, TN, Colonial Heights, TN, Limestone, TN, Knoxville, TN, Bristol, VA, and Abingdon, VA.