[Free Webinar] Are you experiencing weight loss challenges? Do diets not seem to work? Could there be an underlying reason behind your weight? Learn how Dr. Radawi at Tri-Cities Functional Medicine can help you address the root cause of your health problems.
You know that being overweight or obese isn't good for you and can seriously impact your overall health, but no matter what you try, you can't seem to shed those extra pounds. While you may have tried every diet in the book, you'll continue struggling to lose weight without understanding the underlying causes of your weight issue.
There could be a myriad of causes for your weight problems. There's a reason why one-size-fits-all weight loss plans don't work for everyone. You need to work with a doctor who knows your unique body, lifestyle, and ideal treatment. Seeing a functional medicine doctor can help you find a long-term solution for weight loss that works — and lasts.
The Functional Medicine Approach to Weight Loss
Changing how you eat and exercising regularly is all you need to lose weight – right? While your diet and activity level certainly have a significant effect on your body weight, cutting unwanted pounds and reaching a weight that supports a healthy body is more complicated. Your functional medicine doctor will dig deeper into what's causing you to gain weight and create a customized treatment plan tailored to your unique body and health needs.
When creating your functional medicine weight loss plan, we'll consider factors such as:
Your gut health and inflammation
Your hormone levels
Any food sensitivities or intolerances
Possible thyroid issues
Your stress levels
Your sleep quality
Your overall mental health
Possible toxin exposure
Your activity levels
Your past health history
Any nutrient deficiencies
Weight loss isn't as simple as that diet commercial or local gym ad would have you believe. To achieve a sustainable, healthy weight without compromising your well-being, you need to see the full picture of your health. By understanding how your unique body functions and how different bodily systems work together to affect your weight and overall health, your functional medicine doctor can develop a targeted plan of attack.
What Foods Should You Eat to Lose Weight?
Eating healthy can be one of the most challenging hills to climb when trying to lose weight. But what is "healthy food" anyways? Most people know they could benefit from eating more vegetables and cutting artificial sugars out of your diet. When you work with a functional medicine doctor, they'll help you identify the foods that will best support your health and weight loss goals.
The diet you need to reach a healthy weight may not be the same diet your child, spouse, or friend needs. Also, what worked for you ten years ago might not work for you anymore. Your gut microbiome, inflammation, new health issues, hormones, and food intolerances can all require you to eliminate or increase particular foods from your diet.
What Underlying Health Issues Can Make You Gain Weight?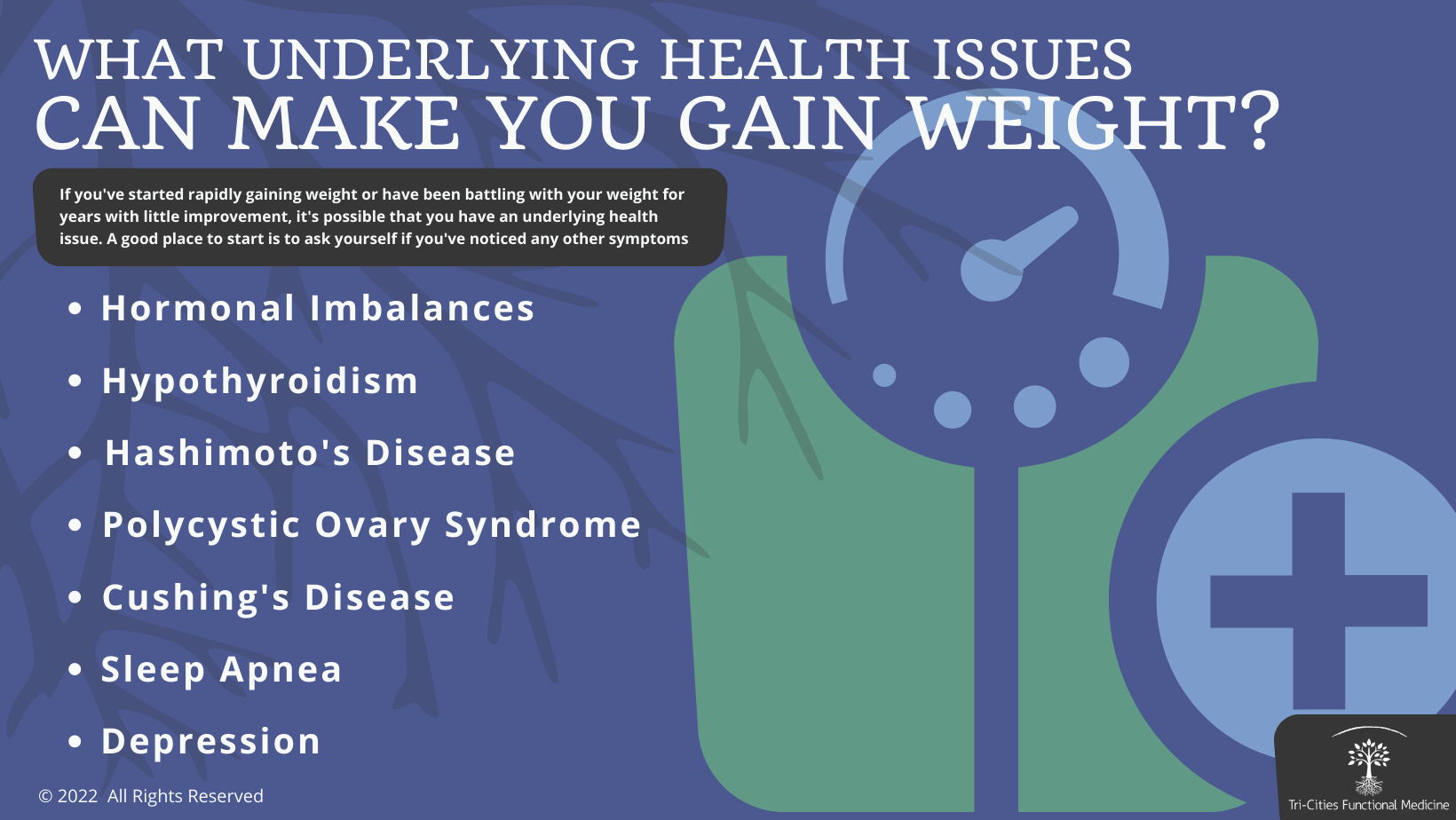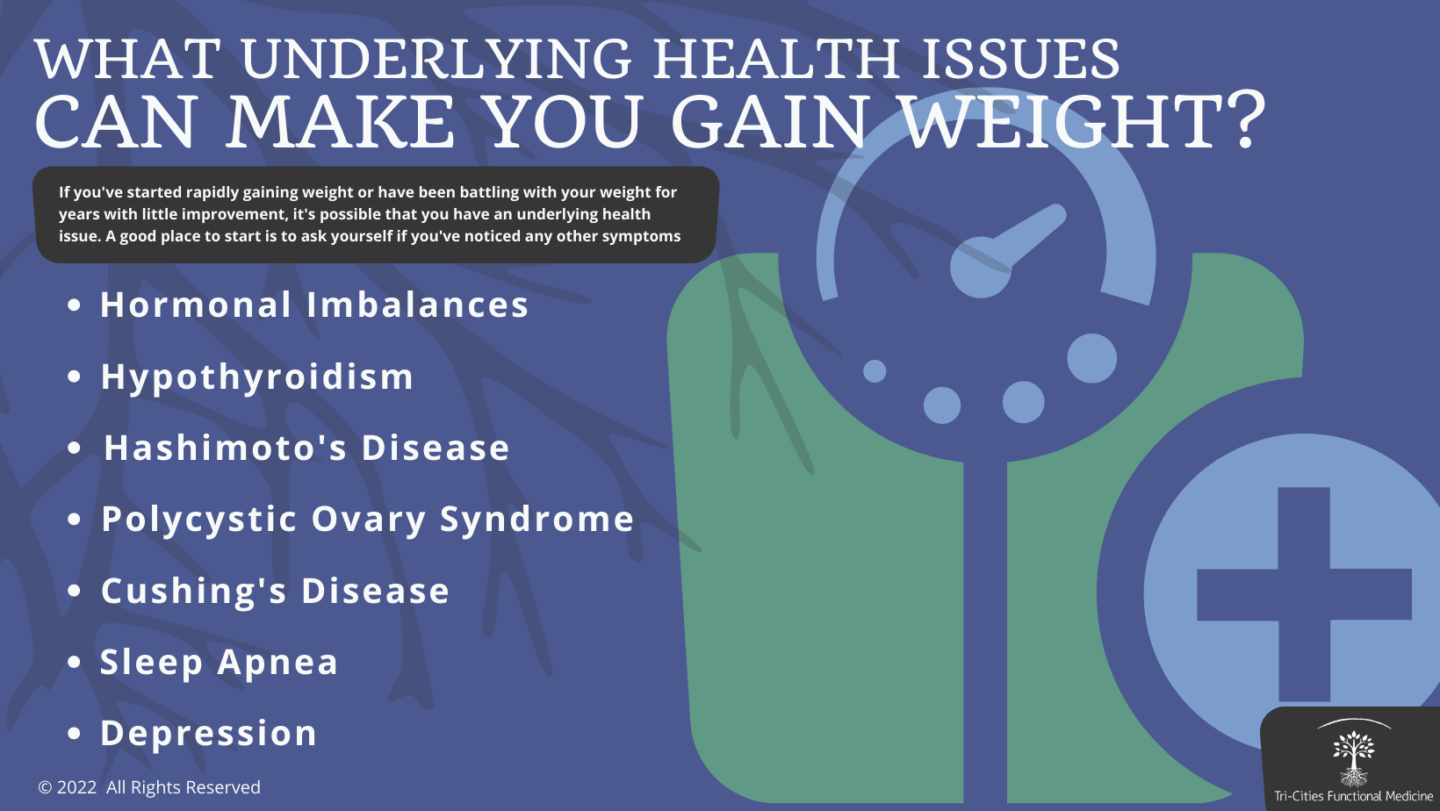 If you've started rapidly gaining weight or have been battling with your weight for years with little improvement, it's possible that you have an underlying health issue. A good place to start is to ask yourself if you've noticed any other symptoms or problems. Is your skin always dry? Do you always feel tired, foggy, and sluggish? Do you struggle to sleep at night? Do you often get irritable, anxious, or experience mood changes? Do you struggle with stomach pain, constipation, or diarrhea? Do you get chronic migraines or pain in other parts of your body?
If you notice a wide range of symptoms accompanying your weight loss, there's likely more to investigate with your health. There are many root causes of your symptoms that can cause weight gain or make it difficult to lose weight:
Hormonal imbalances
Hypothyroidism
Polycystic ovary syndrome
Cushing's Disease
Sleep Apnea
Depression
When you become a new functional medicine patient at Tri-Cities Functional Medicine, we'll start by getting a clearer picture of your health with a Bioelectrical Impedance Analysis (BIA) and diagnostic labs, including:
Comprehensive blood chemistry analysis
Comprehensive digestive tool analysis
Expanded hormone panel
Vitamin/mineral/nutrient testing
Persistent viruses and infections
With these tests, we can better understand if hormones, thyroid issues, depression, or other chronic issues could be getting in the way of reaching your weight loss goals.
How Health Coaching Supports Functional Medicine Weight Loss
While underlying health issues can undoubtedly get in the way of losing weight, your lifestyle matters significantly. If you eat fast food more than you'd like to admit and have a gym membership card you've only used once or twice, you're not alone. Living a healthy lifestyle can be incredibly challenging, especially when you feel overwhelmed or stressed by your daily routine.
At Tri-Cities Functional Medicine, we want to support you in meeting your health goals and making necessary lifestyle changes. If you're struggling to make changes to your diet, stress levels, or exercise routine, as well as other things, we're here to help. By working with our functional medicine health coach, we can help you break through the habits holding you back. You already have the tools for a healthy, fulfilling life right at your fingertips — our health coach is here to help you learn how to use them and stick to the treatment plan prescribed by our functional medicine doctor.
Interested in health coaching? Read the blog: Struggling to Change Your Lifestyle? The Role of Functional Medicine Health Coaching.
How Can Tri-Cities Functional Medicine Help You?
If you're ready to fight off stubborn weight for good and discover the underlying causes of your health concerns, come start your journey at Tri-Cities Functional Medicine. Dr. Radawi utilizes a whole-person approach to care so you can get the best out of your life. We know change is intimidating, but we're here every step of the way.
For those facing weight issues and are interested in how functional medicine can change your life, you can watch our free webinar and then schedule a free discover call with us. Take the first step:
● Watch our free webinar to learn about our approach to the health concerns you are facing.
● Schedule a free discovery call to discuss your health concerns and goals to see if our practice is a good fit for you.
● After your discovery call – if we are a good fit, you'll schedule a consultation with our doctor to dive deeper and formulate an individualized treatment plan for you.
Tri-Cities Functional Medicine is located in Johnson City, Tennessee, and serves patients throughout East Tennessee and into Virginia and North Carolina. These areas include but are not limited to: Washington County, TN, Sullivan County, TN, Carter County, TN, Greene County, TN, Knox County, TN, Bristol, TN, Holston Valley, TN, Tri-Cities, TN, Walnut Hill, TN, Elizabethton, TN, Greeneville, TN, Morristown, TN, Blountville, TN, Bluff City, TN, Kingsport, TN, Jonesborough, TN, Colonial Heights, TN, Limestone, TN, Knoxville, TN, Bristol, VA, and Abingdon, VA