Conventional medicine takes an unfortunate approach when there isn't a quick fix, a medication, or surgery to fix an issue. Rather than doing something positive, they label it a "chronic disease" and deem it "incurable." In functional medicine, we go beyond minimizing symptoms of chronic diseases. Instead, we identify the underlying issue(s) causing your symptoms and contributing to your complex disorder. By addressing the root cause, you can experience true healing that goes beyond mere symptom relief.
Have you given up on getting help with your chronic disease? Watch a free webinar with Tri-Cities Functional Medicine to learn about true healing.
How Conventional Medicine Lets You Down
Conventional medicine offers many helpful treatments for a variety of illnesses and injuries – especially when it comes to providing acute treatment for an immediate issue. Tri-Cities Functional Medicine's Medical Director, Dr. Joseph Radawi, is a board-certified physician who spent a decade in emergency medicine. He is a functional medicine doctor who also understands conventional medicine thoroughly.
However, there are times when conventional medicine can fail. This often happens with conditions labeled "chronic conditions." If there are no conventional medical treatments to cure the disorder, all you get are treatments to lessen the symptoms. While this may provide some help, you may have to suffer through various side effects. What's more, the disease continues to affect you for the rest of your life. Fortunately, functional medicine has a better solution.
The Functional Medicine Approach
Functional medicine takes an approach that focuses on complete health and well-being, including for people with chronic conditions. Like conventional medicine, functional medicine is based on science. One of the biggest differences is that we don't count you out just because conventional treatments didn't correct the dysfunction in your body. Instead, we look for the root cause of your condition, create an individualized treatment plan, and help you achieve excellent overall health.
Why Start with the Root Cause?
A conventional doctor might start your treatment by trying to find a remedy for your symptoms. This way of doing things can only cover up your discomfort and pain. The disease will never go away, and it may even get worse over time. Besides that, the side effects of many medications can be more distressing than the disease.
By looking for root causes first, functional medicine gets to the heart of the problem. The root causes are behind your distress; the symptoms are only the surface indication of trouble. Therefore, rather than attempting to make you less aware of your symptoms, you receive restored balance in your body and healing from your disease. In time, your symptoms can disappear as you get healthier.
How We Find the Root Cause
Finding the root cause of a complex disease can be an arduous task. However, Dr. Radawi, with advanced training in the field of functional medicine, has abundant experience and commitment to discovering the source of your chronic problems.
Searching for root causes always starts with a conversation. We thoroughly explore your history to uncover factors that could be affecting your health. We look at genetic factors. Then, we do in-depth lab testing to ensure we find even the most unexpected causes. Finally, we look at your lifestyle choices and your environment to find out if they are thwarting your quest for optimal health. Even your state of mind could play a part in your struggle with any chronic disease.
Customized Treatment for Chronic Disease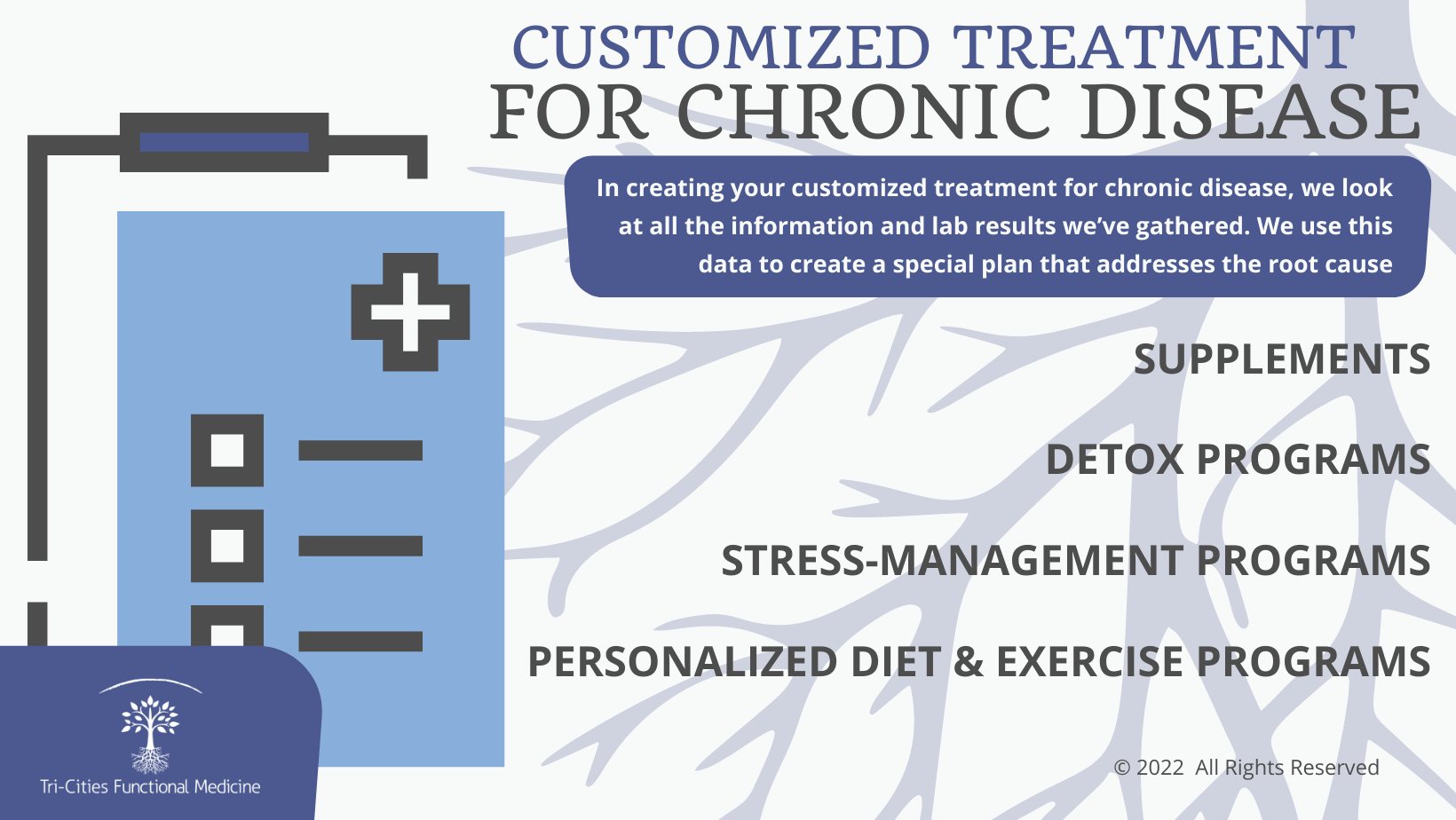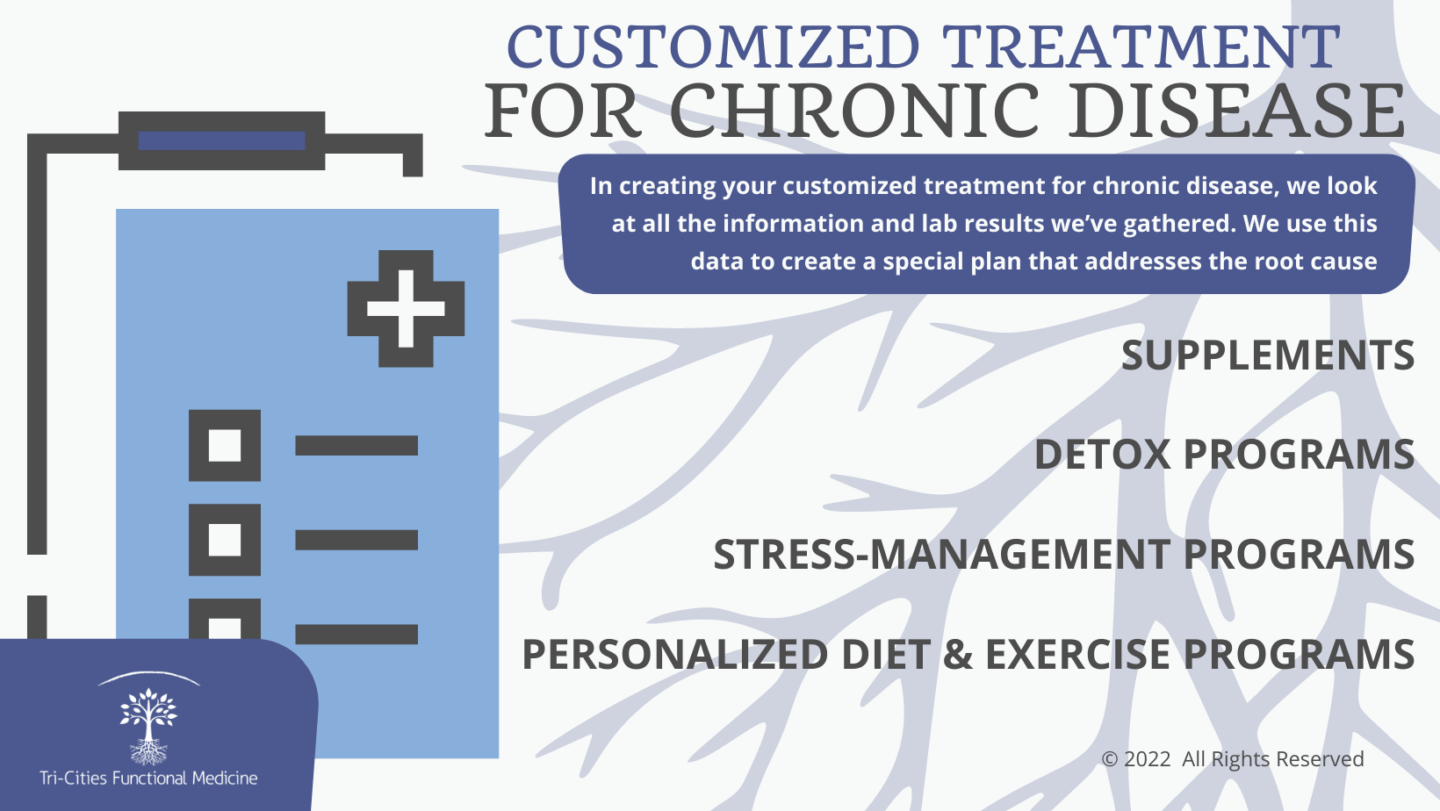 In creating your customized treatment for chronic disease, we look at all the information and lab results we've gathered. We use this data to create a special plan that addresses the root causes Dr. Radawi determines before he develops your plan.
Some types of functional medicine treatment for chronic disease include:
In any of our plans, treatment for chronic disease takes a holistic approach. In other words, all the parts of your plan work together to boost your well-being as a whole person. Your plan will not only help your chronic disease, but it will give you better physical and mental health overall.
Follow-Up to Initial Treatment
Everyone responds to treatment for chronic disease differently. That's why, in functional medicine, we continue testing, examining, and discussing your health for as long as you need us. Along the way, we adjust your plan whenever needed. If you have new or lingering problems, we adapt the plan to address the root causes behind them. As your health improves, your treatment may change, too.
Chronic Diseases Treated by Functional Medicine
You don't have to go to a specialist for functional medicine treatment of chronic diseases. At Tri-Cities, we treat a wide range of complex conditions.
Here are some of the chronic conditions that can benefit from the functional medicine approach.
Arthritis
Asthma
Autism Spectrum Disorders
Attention Deficit Disorder
Autoimmune Diseases
Chronic fatigue
Chronic sinusitis
Chronic pain
Diabetes
Inflammatory Bowel Disease
Fibromyalgia
Anxiety
Depression
Metabolic Syndrome or Pre-Diabetes
Migraines
Osteoporosis
Parkinson's Disease
Thyroid and Adrenal Disorders
Psoriasis
This is only a partial list of conditions we treat, however. No matter what the condition, you can discuss it with Dr. Radawi and find help in improving your overall health and well-being.
You're at the Center of Your Functional Medicine Team
In conventional medicine, the doctor is the one who controls your treatment. They are typically the ones who take action, such as performing surgeries and giving medications. They are basically the star of the show.
In functional medicine, though, you work with a team of experts that put you at the center of everything they do. Although a functional medicine doctor guides you on your path to health, you are the one who follows the treatment plan at home in most cases.
For example, the team might give you a diet plan and explain how to follow it. You may receive recommendations for supplements to take. A detoxification plan may be set up for you. And your doctor may suggest a stress management techniques class. All these parts of your treatment plan are forms of guidance.
Yet, it is you who makes those decisions each day. It is you who follows the details of the plan. The doctor discusses your plan with you before you decide to move forward with it. Our doctor and health coach continue to guide you all along the way. Beyond that, if you have any additional concerns, the appropriate team member will address them with you.
Functional Medicine Treatment for Chronic Disease in Tennessee
Tri-Cities Functional Medicine is located in Johnson City, Tennessee, and serves anyone seeking treatment in the Tri-Cities and nearby areas of Virginia, North Carolina, Kentucky, Georgia and beyond. Distance is not a factor for our team. Dr. Radawi leads our team, providing the best quality of functional medicine care to ensure you achieve your ultimate health goals.
Seeking care for chronic treatment after being told you were incurable makes sense when you understand the difference functional medicine offers. However, it's easy to get started, and the rewards are great. Don't hesitate any longer. Your health and healing are waiting for you to begin.
Did your conventional medicine doctor say there's nothing else they can do? Take the first step:
Watch our free webinar to learn about our approach to the brain health issues you are facing.
Schedule a Free Discovery Call to discuss your health concerns and goals to see if our practice is a good fit for you.
After your discovery call – if we are a good fit, you'll schedule a consultation with our doctor to dive deeper and formulate an individualized treatment plan for you.
Tri-Cities Functional Medicine is located in Johnson City, Tennessee, and serves patients throughout East Tennessee and into Virginia and North Carolina. These areas include but are not limited to Washington County, TN, Sullivan County, TN, Carter County, TN, Greene County, TN, Knox County, TN, Bristol, TN, Holston Valley, TN, Tri-Cities, TN, Walnut Hill, TN, Elizabethton, TN, Greeneville, TN, Morristown, TN, Blountville, TN, Bluff City, TN, Kingsport, TN, Jonesborough, TN, Colonial Heights, TN, Limestone, TN, Knoxville, TN, Bristol, VA, and Abingdon, VA.