What goes into a healthy diet? While there is a multitude of opinions on what you should eat, each program tends to be a cookie-cutter solution. Yet, the answer to this question truly isn't the same for everyone. Let's deep dive into how food functions as medicine and how your diet is the most important factor for full-body health.
Would you like to learn how functional nutrition can improve your full-body health? Start with a free webinar.
Functional Nutrition Acts as Medicine
Once a common understanding, using food for medicine is starting to make a comeback. The push toward using food as medicine is just beginning to re-emerge. The goal of this approach is to maximize health and strength and to bring about healing, improvement of chronic conditions, and treatment for diseases. Functional Medicine is at the forefront of this movement.
At Tri-Cities Functional Medicine in Tennessee, our health coaches practice on the basis that nutrition is one of the Five Pillars of Health. We see food choices as extremely important medicines for healing and preventing diseases. In fact, this idea that food is medicine is more than a mere philosophical statement. Research has shown time and again that poor food choices contribute to nearly every disease, dysfunction, or weakness.
Why Your Diet Is Critical to Your Full-Body Health
The food choices you make can either nourish you or damage your health. In fact, an article in the British Medical Journal (The BMJ), Food is medicine, states that one of every five deaths in the world is due to poor nutrition. The BMJ further explains that this risk factor leads to more deaths than any other, including tobacco use.
Yet, you do not have to die to suffer the ill effects of inadequate or incorrect nutrition. An unhealthy diet can have many negative effects on your daily life, causing illness, sluggishness, brain fog, mental health issues, and more. On the other hand, when you choose healthier options for your unique body, you can improve your overall well-being for the rest of your life.
Disease and Nutrition
In recent decades, doctors at the cutting edge of disease treatment have realized the benefits of a customized diet for people with various diseases. For example, people with cancer often follow a holistic diet that makes their bodies stronger and better able to fight the disease.
However, many illnesses, from cancer to intestinal disorders, can cause malnutrition. Therefore, finding the right combination of foods for each person presents a huge challenge. That is why it is best to work with a nutrition professional who will design a food plan based on what is going on in your body right now.
Inflammation is another issue that comes with many diseases and injuries. Knowing what foods to eat and which to avoid can reduce inflammation dramatically. Because both nutrient deficiencies and excesses can trigger inflammation, your dietitian needs to look at your current diet, lab test results, and current condition to ensure the diet designed to reduce inflammation is actually suitable for you.
Wellness Through Nutrition
Suppose you do not have any major diseases. Can a customized functional nutrition plan still help you? The answer, of course, is yes! Taking a holistic approach to nutrition can also help you with less devastating but still problematic conditions.
Healthy eating based on your unique body and its needs can improve functions in all the parts of your body, from your skin to your internal organs. Your brain functions better so that you can think clearly without brain fog or lack of concentration. The right foods can restore your gut health, boost your immune system, and reduce your stress.
Types of Functional Medicine Programs
Your functional medicine doctor will likely recommend an eating plan for you as a part of your wellness program. The type of plan they design will depend on various factors about your body, your usual activities, your goals, and any medical conditions you have. Although your FM nutrition specialist will fine-tune your food plan to suit you specifically, plans tend to include two different ways of looking at food. That is, it is both preventative and a treatment for the root causes of health conditions.
Preventative Nutrition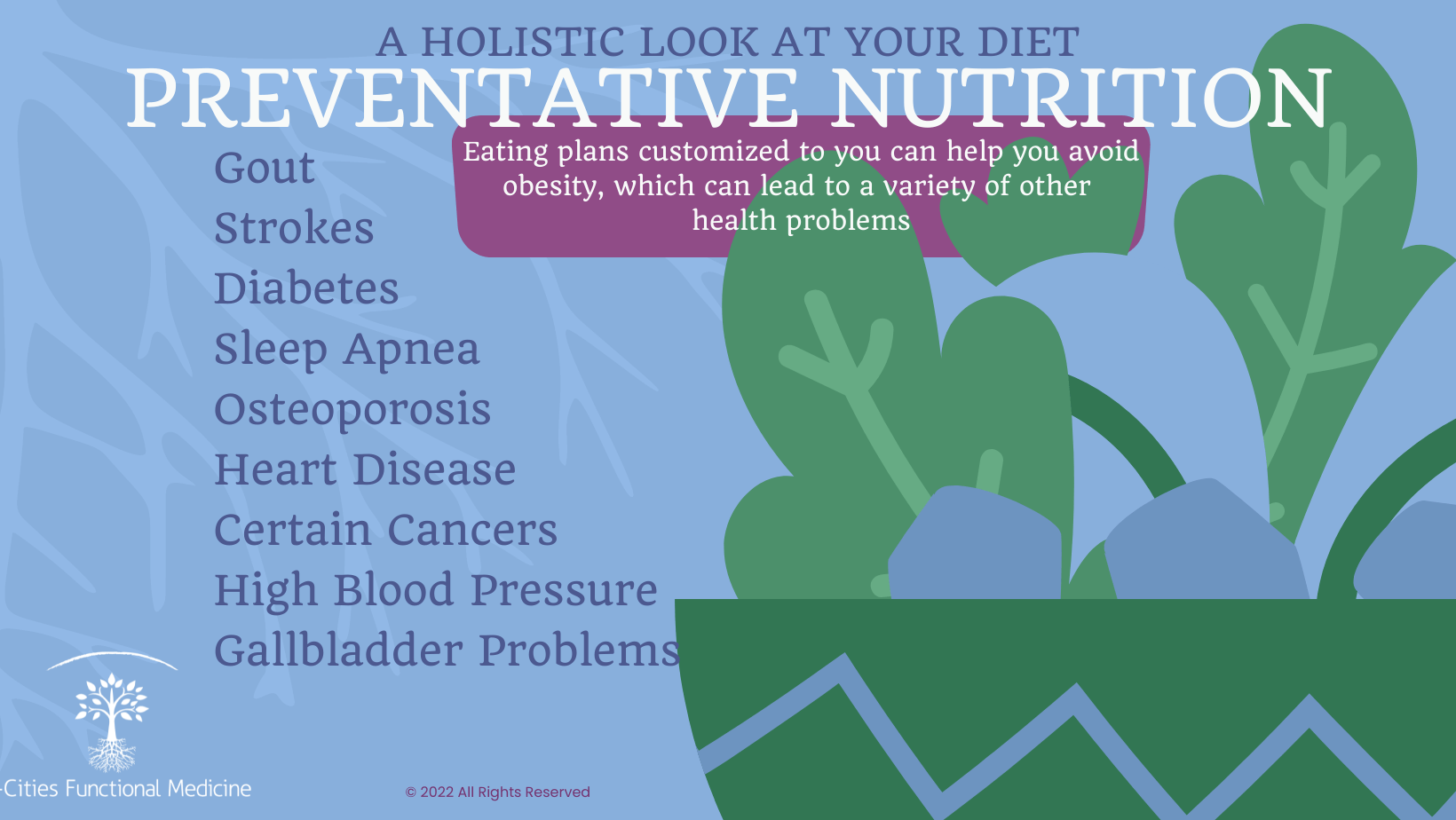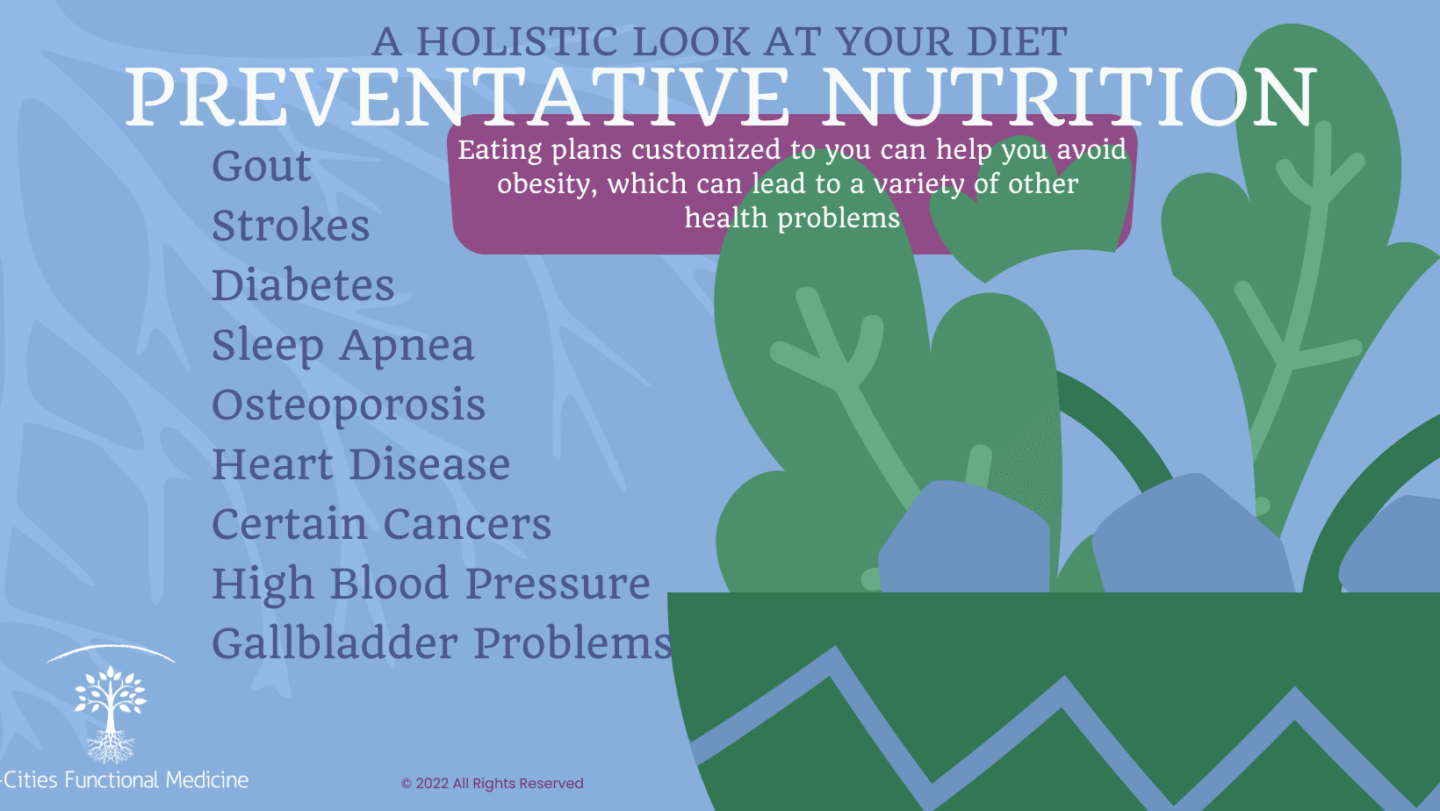 Food is your fuel. The right foods for you can give you abundant energy. And by following the best nutritional guidance for your own body, you can boost your health throughout your entire body. Preventative nutrition offers one of the best ways to avoid diseases and chronic conditions.
For one thing, eating plans customized to you could help you avoid obesity, which can lead to a variety of other health problems, including:
Heart disease
Strokes
Diabetes
High blood pressure
Gallbladder problems
Osteoporosis
Sleep apnea
Gout
Certain cancers
It is likely that you understand that not smoking could help you prevent lung cancer. However, have you considered that eating less of certain foods could also be preventative? For example, your nutritionist might recommend that you cut down on unhealthy fats, which will help your body stay leaner, your blood vessels stay clearer, and your mind stay sharper. Your entire body benefits.
At the same time, you may need to eat larger servings of other things, such as green, leafy vegetables or fresh fruits. Your nutrition expert works out the type and quantity of foods you need to create a plan that is just right for you.
Nutrition During Illness or Injury
Nutrition during major illnesses or after injuries can have a profound effect on healing. With foods such as citrus fruits, broccoli, and garlic to boost your immune system, you may get better sooner than you expect. Of course, a customized nutrition program includes foods you will eat based on your preferences and culture.
The first order of business when designing a diet to help with illness is knowing where your health stands right now. For this, your functional medicine doctor will take steps like:
Taking your medical history
Discussing your symptoms
Asking about your activity level and lifestyle
Providing a physical examination
Once the doctor has all this information, they can pass it along to the health coach/nutritionist with their goals and recommendations. The functional nutrition specialist then uses the data and insights from the doctor to craft the ideal food plan for you.
Functional Nutrition at Tri-Cities Functional Medicine
At Tri-Cities Functional Medicine in Tennessee, we value your health and place a high priority on nutrition to improve your healthy functioning. Our nutrition/health coaches provide you with customized diet programs that work alongside any treatments offered by Dr. Radawi and our staff.
Our nutrition services include nutritional assessments, eating plans, guidance, and educational materials and groups. Plus, Dr. Radawi will prescribe nutraceuticals and supplements to round out your nutrition plan. Whether you have severe medical conditions, annoying chronic ailments or problems you consider minor, eating the foods that work with your body will help you achieve better health.
Want to eat the right way for your unique body? Learn more about how our functional medicine clinic can help you improve your health through functional medicine by taking the first step:
Schedule a Free Discovery Call to discuss your health concerns and goals to see if our practice is a good fit for you.
After your discovery call – if we are a good fit, you'll schedule a consultation with our doctor to dive deeper and formulate an individualized treatment plan for you.
Tri-Cities Functional Medicine is located in Johnson City, Tennessee, and serves patients throughout Tennessee and into Virginia, North Carolina, West Virginia and Kentucky. These areas include but are not limited to: Washington County, TN, Sullivan County, TN, Carter County, TN, Greene County, TN, Knox County, TN, Bristol, TN, Holston Valley, TN, Tri-Cities, TN, Walnut Hill, TN, Elizabethton, TN, Greeneville, TN, Morristown, TN, Blountville, TN, Bluff City, TN, Kingsport, TN, Jonesborough, TN, Colonial Heights, TN, Limestone, TN, Knoxville, TN, Bristol, VA, Abingdon, VA, Grundy, VA, Asheville, NC, Boone, NC.