Are you tired of taking medication to relieve migraines? Would you like to stop the pain naturally and effectively? Read here to discover the functional medicine approach to migraine relief. Then, click below to
Without discovering the underlying cause of your migraines, your only option is pain management, often with medications. Here's how you can work with a functional medicine doctor who treats your migraines and helps you find relief without relying on medication to get through the day.
Want to know more about how functional medicine helps with pain? Read our blog. Functional Medicine Can Treat Chronic Pain. Here's How.
Why We Avoid Medications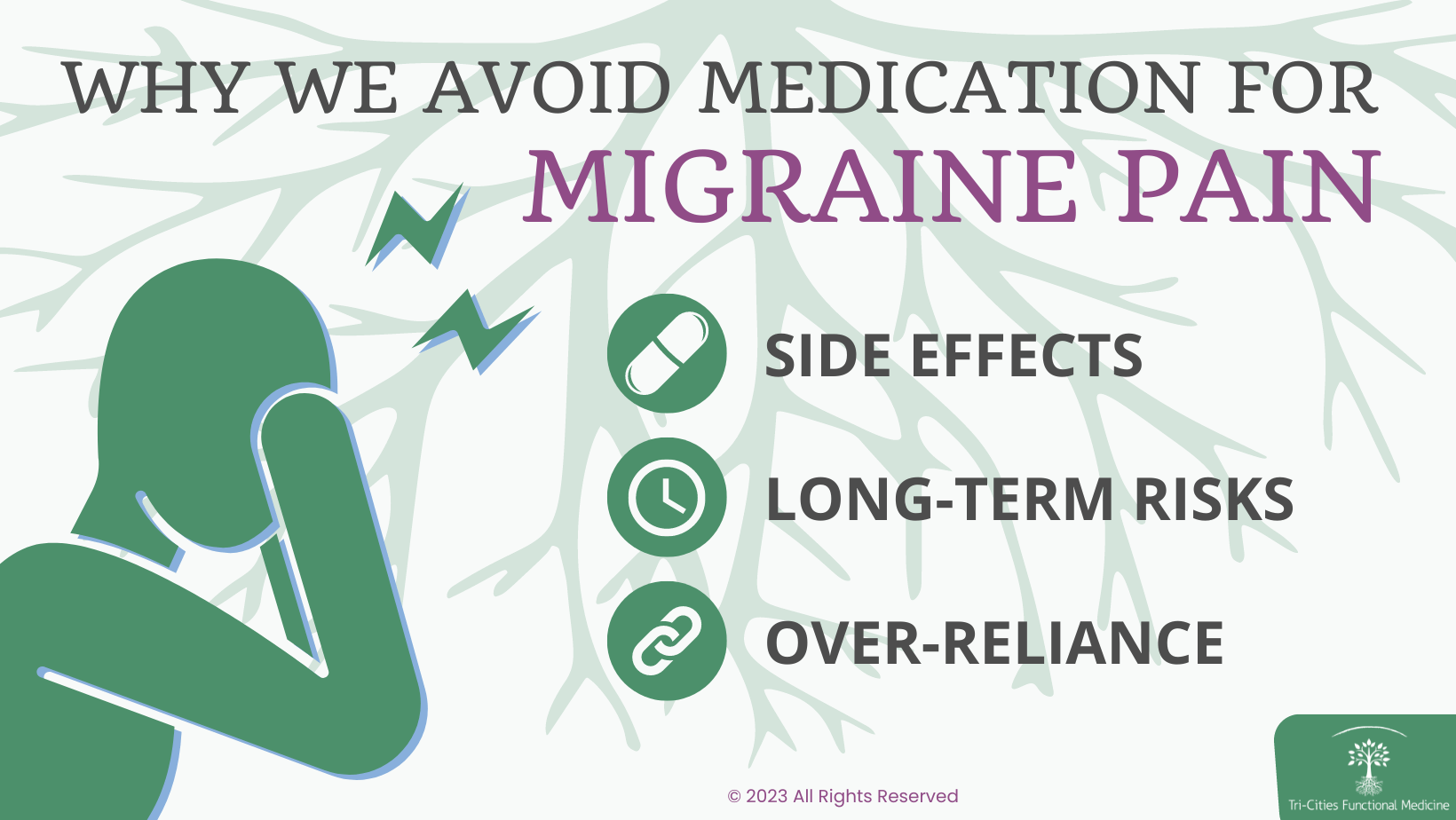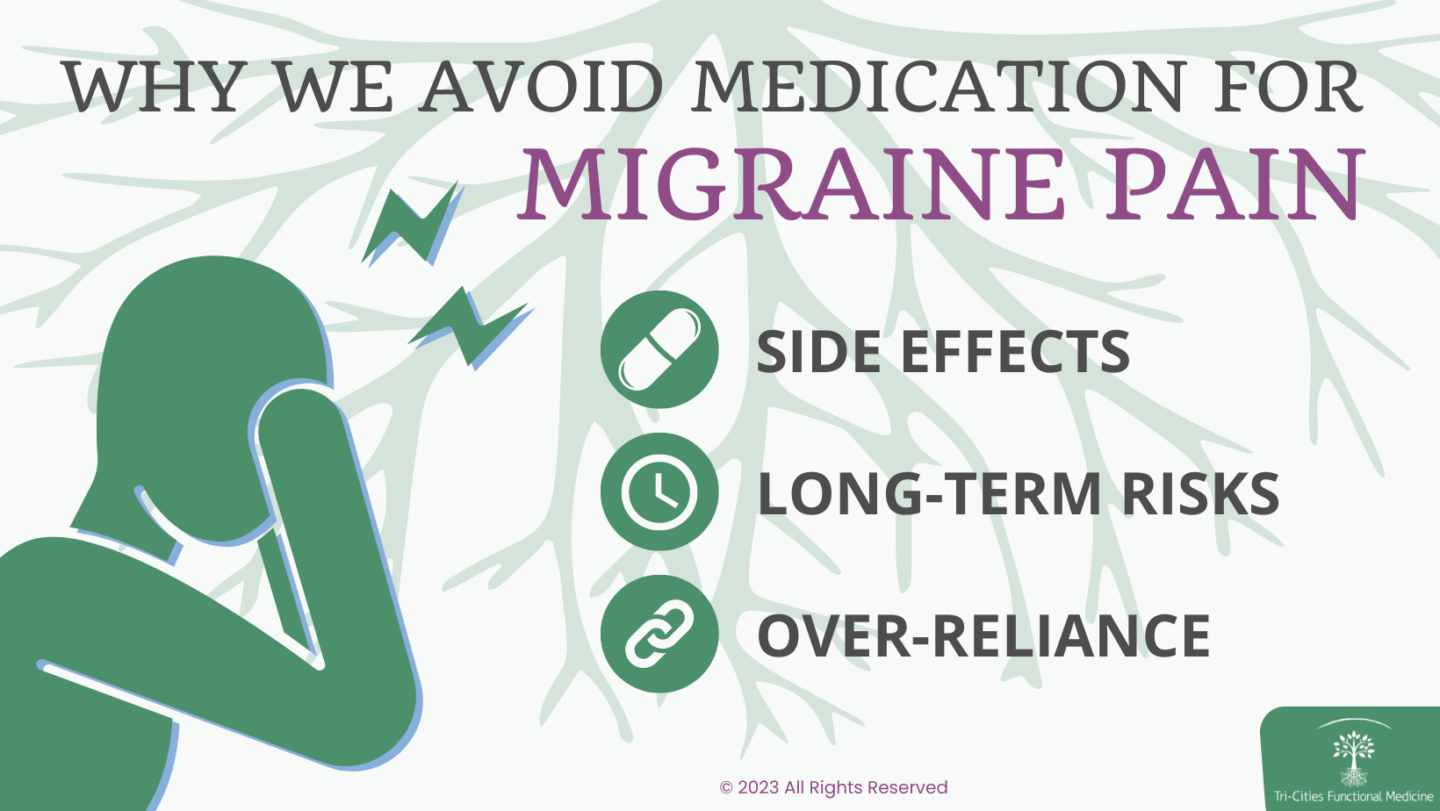 Medications can be helpful for certain illnesses. For example, you might need an antibiotic if you have a severe infection. However, most people would prefer another approach if medication isn't necessary. Here are some of the reasons you might not want to use medications for migraine pain.
Side Effects
As with many medications available today, migraine medications typically cause side effects. These can include effects that you feel in your body, such as tingling, nausea, or dizziness. Depending on which meds you take, they can make you gain weight, affect your sleep patterns, upset your digestive tract, and ruin your sex drive. At Tri-Cities Functional Medicine in Tennessee, we treat the cause in ways that don't bring these types of troublesome side effects. We want you to feel better, not cause new problems!
Long-Term Results
Taking migraine meds over the long term can cause even more serious issues. These medications can contribute to dementia, heart arrhythmias, increased risk of diabetes, kidney stones, pancreatitis, essential tremor, osteoporosis, weight gain, and more.
A functional medicine doctor steers clear of medications that can cause such harm, preferring instead to treat with natural and practical methods that have none of these unfortunate side effects on your body.
Over-Reliance on Medications
Many of our patients come to us with worries about being too reliant on migraine medications. We understand! After all, if medication is your only option to treat your intense pain, what will you do if you run out or forget to carry them with you while away from home? And how will you respond if the medication isn't available to you?
The methods we use are ones you can count on at any time and any place. Many of them involve your personal choices, habits, and activities. Even better, you can prevent or take care of your migraines without suffering long-term negative effects!
First Step – Talking About Your Pain and Health Goals
We start by listening to you as you describe the pain, its intensity, and when and how long it happens. During your first appointment, we also discuss your medical history and your overall health. From there, we order comprehensive lab tests and help you define your goals for your health beyond resolving your migraine pain issues.
Because we look at the big picture and all its parts, we can offer a more complete answer to your pain problems. Recognizing how your migraines fit into your overall health sets us on a path to providing the highest quality treatment for your unique needs and goals.
Second Step – Finding the Underlying Causes
Migraines don't happen when your body is functioning as it should. Therefore, we delve deeper to find the underlying cause. We can only provide the best treatment for you after we know why you are having migraines. The following can all be the underlying causes of migraines.
Hormone changes
Alcohol or caffeine
Stress
Intense sensory stimuli
Sleep problems
Overexertion
Medications
Foods and food additives
Migraines don't always happen for the same reason, either. For one person, it may be due to a hormone imbalance, while someone else might have migraines because they're under incredible stress. Another person might have several underlying causes that are all contributing to the migraines.
We can often find the root cause of your migraines with in-depth lab testing. We consider your genetics, environment, and personal medical history. We look at your lifestyle choices to determine if there is a cause for migraines there. In addition, we perform vital signs, body composition, EKG, and measurements. Then, we gather and analyze all the data that has been collected. Dr. Radawi and our team take the time to listen so that we can discover the ultimate source of your migraines. Our primary goal in this process is to find and correct imbalances and address deficiencies and excesses.
Third Step – Treating Migraines Without Medications
Functional Medicine doctors know how to treat migraines without medication. We want every part of your treatment to work together to improve your overall physical well-being while relieving the migraine pain. We might include any or all of the following interventions when you come to us with migraine pain.
Lifestyle Changes
Very often, lifestyle choices are the underlying causes of migraines. Thus, when we create a treatment plan for you, we will include lifestyle changes that will improve your overall condition and reduce your problems with migraines. Our knowledgeable health coaches work with you to implement these changes successfully. Here are some of the changes we often recommend.
Avoiding specific foods, beverages, and substances that trigger migraines
Getting the right amount of sleep at the same time each night
Exercising moderately and regularly
Learning stress reduction techniques
Having massages regularly
Adjusting your schedule to prioritize your health
At Tri-Cities, we help you make significant changes so that you can feel better and enjoy life more. Based on the specific causes of your migraines, we tailor the changes to you as a unique individual.
If you want to learn more about how we work with you to make changes, read our blog, Struggling to Change Your Lifestyle? The Role of Functional Medicine Health Coaching.
Supplements
When you have too much or too little of a specific nutrient, we recommend supplements to help balance those levels. Supplements are not the same as medications in that when taken properly, supplements rarely have any side effects. These can be things like vitamins and minerals that get your nutrient levels within a healthy range. We can also recommend nutraceuticals, which are foods that contain special natural additives that promote health.
Team Up with a Functional Medicine Doctor in Tennessee
If you want to get rid of migraines without the hassle of medication, our team at Tri-Cities Functional Medicine is ready to help! Our Dr. Joseph Radawi is a highly trained physician and functional medicine doctor. With his expertise and concern for our patients, Dr. Radawi provides effective care for many people who fail to get the help they need from traditional medicine.
Our health coaches and doctors provide information, insight, and support as you make the right lifestyle changes to help you avoid migraine pain. Dr. Radawi is trained in traditional medicine and spent many years as an ER doctor so he has worked on both sides. His functional medicine training and experience have taught him how to treat migraines without medication. Together, we can help you get past the migraines and feel better for the long term.
Here's how you can start addressing the issues behind your pain!
After your discovery call – if we are a good fit, you'll schedule a consultation with our doctor to dive deeper and formulate an individualized treatment plan for you.
Tri-Cities Functional Medicine is located in Johnson City, Tennessee, and serves patients throughout Tennessee and into Virginia, North Carolina, West Virginia and Kentucky. These areas include but are not limited to: Washington County, TN, Sullivan County, TN, Carter County, TN, Greene County, TN, Knox County, TN, Bristol, TN, Holston Valley, TN, Tri-Cities, TN, Walnut Hill, TN, Elizabethton, TN, Greeneville, TN, Morristown, TN, Blountville, TN, Bluff City, TN, Kingsport, TN, Jonesborough, TN, Colonial Heights, TN, Limestone, TN, Knoxville, TN, Bristol, VA, Abingdon, VA, Grundy, VA, Asheville, NC, Boone, NC.