The brain has often been called the command center of the entire body. So, when you suffer from neurological health issues, it can affect your life in profound ways. The good news is that our Tennessee functional medicine clinic can now treat brain disruptions and disorders using an individualized therapy called MeRT. Here's what this treatment is, how it works, and how it can help.
Would you like to improve your brain health? If so, take the first step by watching our free webinar.
Do You Have Symptoms of Brain Dysfunction?
Recognizing brain dysfunction is not always easy. It shows up in many brain disorders, injuries, and neurological changes. Brain dysfunction is at the root of many health conditions, including:
Anxiety
Insomnia
PTSD
Addictions
Tinnitus
Obsessive-Compulsive Disorder
Migraine with Aura
Narcolepsy
When your brain isn't working well, you could experience symptoms such as:
Brain fog
Memory problems
Problems focusing
Chronic stress
Chronic fatigue
Sleeping problems
Headaches
Light sensitivity
Slow reaction times
Moodiness or irritability
The causes of brain dysfunction range from physical brain injuries to extreme psychological stress. Even not getting enough sleep over time can lead to problems in your brain's functioning. Yet, if you seek help from a functional medicine professional, like our doctor at Tri-Cities Functional Medicine, we can address these issues in the way that is most suitable for your unique brain. This customized treatment called MeRT can make a significant difference for you.
What Is MeRT?
MeRT stands for Magnetic e-Resonance Therapy. This cutting-edge solution to a variety of neurological problems begins with finding the source of your brain dysfunctions. After assessing your unique brain, your doctor uses the results of the evaluation to create a customized treatment just for you. This treatment is a specific type of Transcranial Magnetic Stimulation that is highly individualized to your brain.
The goal of magnetic e-resonance therapy is to reprogram your brain's dysfunctional neurons so that they work well within their neuronal networks. After treatments, these networks communicate better with each other, improving the brain disruptions that have impacted your life.
The Four Steps of MeRT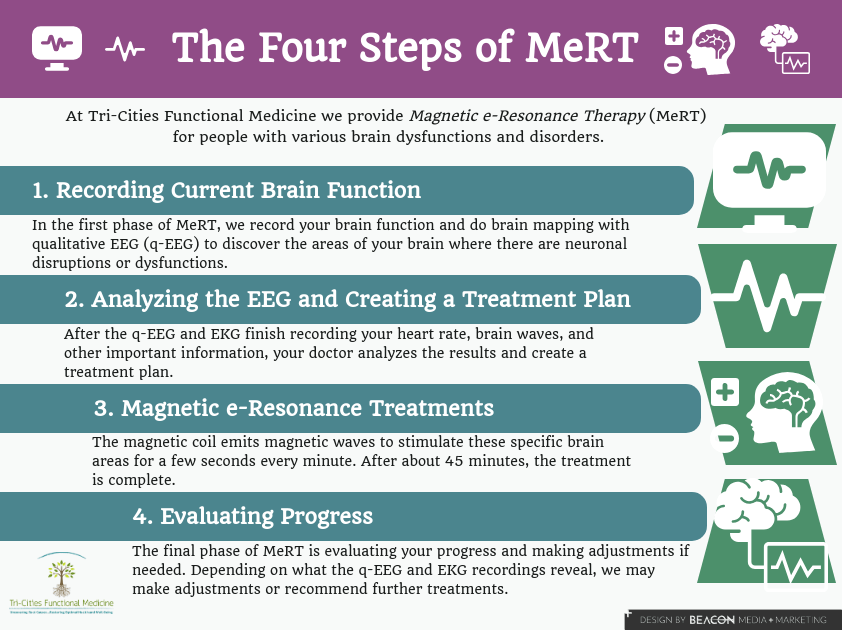 You may be wondering what this new treatment is like and how it works. At Tri-Cities Functional Medicine in Tennessee, we provide MeRT treatment for people with various brain dysfunctions and disorders. If you decide to move forward, your treatment consists of four distinct phases.
1. Recording Current Brain Function
In the first phase of MeRT, we record your brain function and do brain mapping. For this part of the treatment, we use qualitative EEG (q-EEG) to discover the areas of your brain where there are neuronal disruptions or dysfunctions. We not only record your brainwaves but also your heart rhythm, so we also use an EKG.
Before the recording begins, we place a cap with electrodes on your head and an ekg lead on your chest to record your data. This phase only requires you to sit still for about 10 minutes and close your eyes while the q-EEG and EKG do their work of brain mapping.
2. Analyzing the EEG and Creating a Treatment Plan
After the q-EEG and EKG finish recording your heart rhythm and brain waves, it is sent to the wave neuro lab to create a report and formulate a treatment protocol. The q-EEG can show indications of brain injuries, mental health problems, and various other brain disorders. Then, once we recognize the areas of dysfunction, we formulate an individualized MeRT treatment plan fine-tuned to improve functioning in your unique brain. Once the report is back, our doctor analyzes the results and discusses these results and his recommended treatment plan with you during a consultation.
3. MeRT Treatments
With the treatment plan in place, we are ready to begin your MeRT. For the treatments, you sit comfortably as we place a magnetic coil on your head. We place the coil precisely and apply the treatments to the parts of your brain we identified as dysfunctional during the recording and analysis phases. The magnetic coil emits magnetic waves to stimulate these specific brain areas for a few seconds every minute. After about 45 minutes, the treatment is complete.
4. Evaluating Progress
The final phase of MeRT is evaluating your progress and making adjustments if needed. To do this, we take more q-EEG and EKG readings each time you reach ten treatments. At that time, we have a conversation about the progress you've made. Depending on what the recordings reveal, we may make adjustments or recommend further treatments.
Is MeRT Safe?
MeRT treatment is a well-respected form of brain therapy. Many high-level studies have found this treatment to be very effective. The equipment we use for every part of these treatments has been cleared by the FDA. As for your personal comfort, this brain treatment is a pain-free process and does not have the devastating side effects that come with many medications used to treat brain disorders. This noninvasive therapy is safe and effective.
How MeRT Fits in with Functional Medicine
MeRT fits in well with other treatments that are used in functional medicine. First, as with all functional medicine treatment plans, your MeRT plan will be highly customized to your unique needs. Another factor is that functional medicine professionals aim to find the root cause of diseases and disorders rather than only treat the symptoms. Magnetic e-Resonance Therapy does this elegantly, providing a combination of diagnosis and targeted treatment.
Finally, offering these particular brain treatments makes sense for a clinic that aims to treat each individual as a whole person. In fact, whole-body healing is one of the primary concerns of functional medicine. Because good brain health is so vital for achieving good overall health, this treatment is an excellent fit for functional medicine clinics. MeRT combined with Functional Medicine has proven to be even more effective.
Seeking Treatment to Meet the Needs of Your Unique Brain
One of the main differences between MeRT and many other brain treatments is that it recognizes the uniqueness of each individual brain. Therefore, before you even begin the actual treatments, your doctor views and analyzes data that comes from your own brain before devising a treatment plan tailor-made to address the specific dysfunctions you are experiencing at a frequency that is specific to you.
If you want a pain-free treatment that gets to the root of your brain health problems, you may want to consider starting MeRT treatments with a medical professional who is trained in their use. At Tri-Cities Functional Medicine in Tennessee, Dr. Radawi provides expert care, not only in brain treatments but in a wide range of functional medicine care as well.
Want to learn more about how our functional medicine clinic can help you improve your brain function using MeRT? Take the first step:
Watch our free webinar to learn about our approach to the brain health issues you are facing.
Schedule a Free Discovery Call to discuss your health concerns and goals to see if our practice is a good fit for you.
After your discovery call – if we are a good fit, you'll schedule a consultation with our doctor to dive deeper and formulate an individualized treatment plan for you.
Tri-Cities Functional Medicine is located in Johnson City, Tennessee, and serves patients throughout East Tennessee and into Virginia and North Carolina. These areas include but are not limited to: Washington County, TN, Sullivan County, TN, Carter County, TN, Greene County, TN, Knox County, TN, Bristol, TN, Holston Valley, TN, Tri-Cities, TN, Walnut Hill, TN, Elizabethton, TN, Greeneville, TN, Morristown, TN, Blountville, TN, Bluff City, TN, Kingsport, TN, Jonesborough, TN, Colonial Heights, TN, Limestone, TN, Knoxville, TN, Bristol, VA, and Abingdon, VA.