[Webinar] Do you want to learn more about Magnetic e-Resonance Therapy as an effective treatment option? Read below to get answers to your most asked questions – and how MeRT therapy is used to discover and nurture your unique brain.
Click here to watch the free webinar!
So, you've heard or read about Magnetic e-Resonance Therapy (MeRT) and you're curious to learn more – but perhaps a bit skeptical. Is this really a positive, non-medicinal, minimal side effects option for improved brain functioning?
No worries. With any new technology, people will naturally have many questions about the effectiveness and safety of this treatment. In this blog, we're going to address many of the questions people interested in MeRT are likely to ask, including side effects, treatable conditions, and benefits.
Question 1: How Does MeRT Work?
When people first hear the term Magnetic e-Resonance Therapy, or MeRT, it can often sound like a scary, invasive procedure. However, MeRT is a painless treatment that is safe, effective, and FDA-approved. Your brain is constantly firing signals that allow you to perform different functions – like reading, understanding, and storing this sentence in your memory.
When these signals don't fire correctly, your neuron networks can't communicate with each other properly, resulting in dysfunction. Imagine it like a telephone game in your brain; some words aren't said loudly enough, some aren't heard correctly, and by the time the "message" reaches the last person, it's all mixed up.
MeRT works by using magnetic waves to stimulate specific areas of the brain so that the signals are "loud and clear." The neurological areas targeted vary depending on the condition or symptoms you are looking to address.
Not convinced yet and want to dive deeper? Read our blog post What Is MeRT? An Overview of Magnetic e-Resonance Therapy.
Question 2: What Happens During MeRT?
First, initial brain waves are monitored to identify the particular pattern resulting in dysfunction; afterward, the process of MeRT treatment is fairly comfortable and relaxed. In a seated position, a magnetic coil will be placed on your head and will be used to stimulate the areas of the brain pre-determined for the treatment.
The stimulation itself lasts only a few seconds in intervals every minute. The treatment continues for around 45 minutes for the duration of your session. You will have multiple sessions over the course of several (4-6) weeks, and periodic EKG and q-EEG recordings are completed to track the progress of MeRT treatment. As mentioned previously, Magnetic e-Resonance Therapy isn't an invasive procedure, and effects are seen gradually – built up from previous sessions.
Question 3: What Are the Side Effects of MeRT?
The side effects of MeRT are minimal, as this treatment is not high-risk. The most serious (but rare) side effect of Magnetic e-Resonance Therapy is the presence of seizures/seizure activity. However, the risk is only 1/100,000 to 1/300,000 compared to the risk of seizure while playing video games that is 1/4000. You may also experience minor headaches (most commonly seen) and temporary changes in activity levels or mood.
Question 4: Who Should Consider MeRT?
As with other functional medicine treatments, MeRT is an excellent option for people who have not experienced success with traditional medicine or psychiatry. Whereas other treatments only attempt to control and manage your symptoms, Magnetic e-Resonance Therapy looks to address the root cause.
MeRT is also great for those who are unable to take psychoactive drugs or don't feel comfortable doing so. If you have been searching for relief for a while, know that there are other routes – like MeRT – that are available and proven to be effective for many patients.
Question 5: How Can MeRT Benefit Me?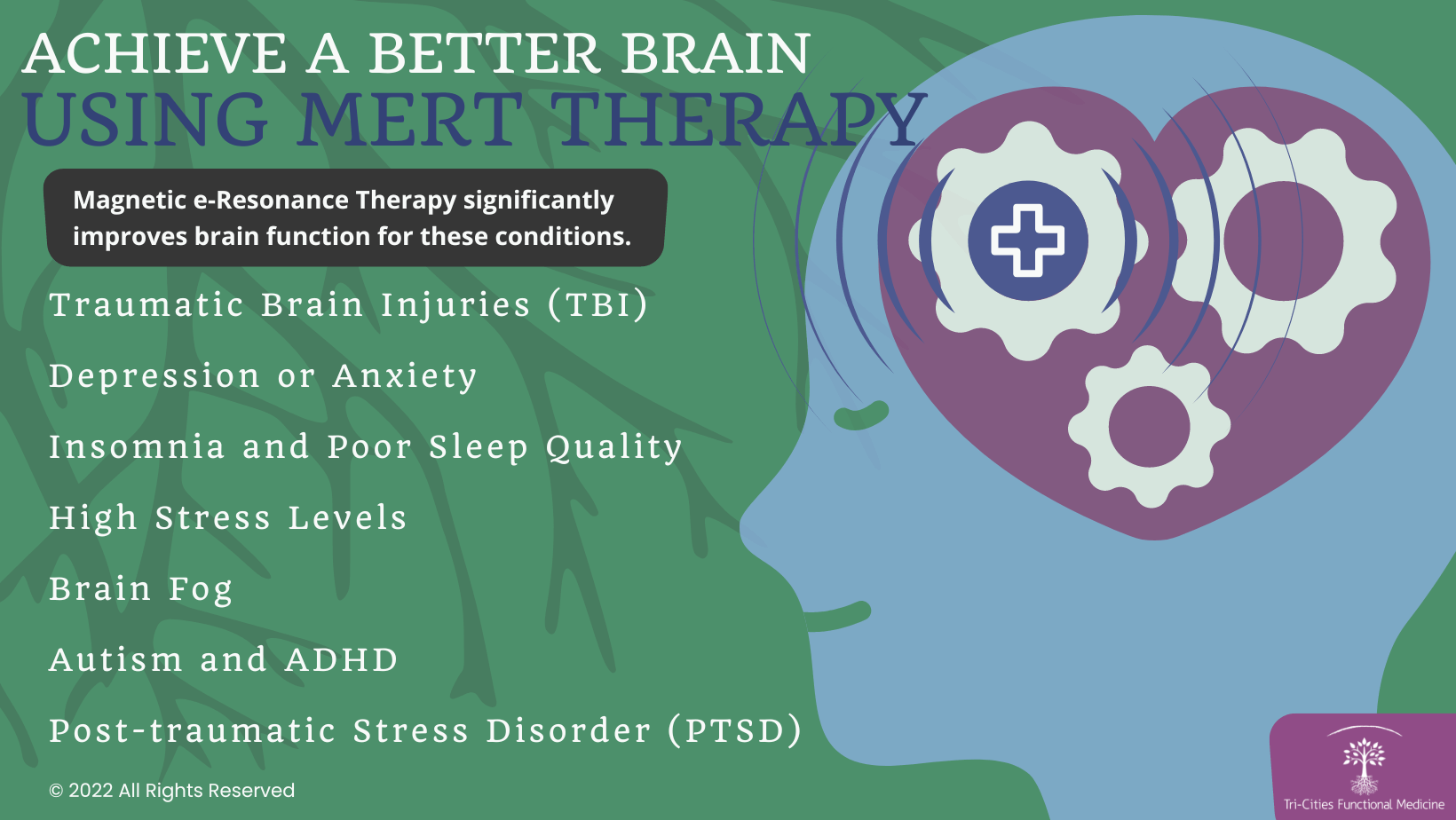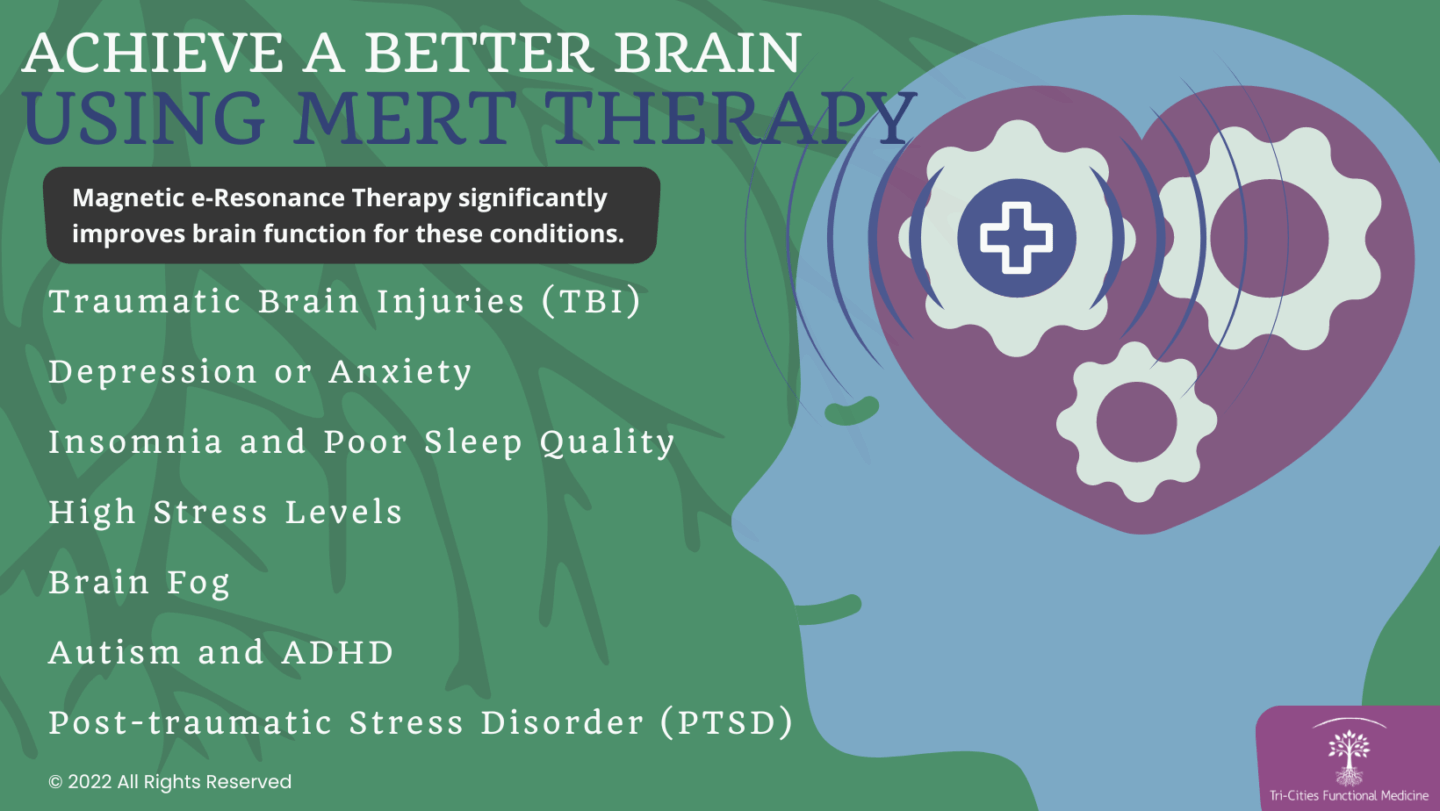 A customized MeRT treatment plan can benefit patients struggling with neurological or mental health conditions, behavioral issues, and effects from brain injuries. Here is a list of some of the commonly treated dysfunctional patterns using Magnetic e-Resonance Therapy:
Traumatic brain injuries (TBI)
Depression or anxiety
Insomnia and sleep issues
Neurodevelopmental conditions such as autism and ADHD
Post-traumatic stress disorder (PTSD)
That said, neurological disruptions can occur without a formally diagnosed condition. Meaning, anyone can benefit from MeRT even if it's simply addressing poor quality sleep, brain fog, high levels of stress, or brain optimization. Because MeRT treatment is extremely individualized to your brain, there is a greater likelihood of positive effects!
Question 6: How Soon Will I See Results?
Everyone's brain is different, so the time it takes to see results from MeRT will vary. Timelines are also impacted by the specific condition being treated. Generally speaking, it will take a few weeks into a treatment plan to see significant improvement in functioning.
Question 7: Are the Results of MeRT Permanent?
The duration of the results/changes from MeRT isn't clear from current research. This is largely due to the unique brain patterns of each individual. However, it may be helpful to think of magnetic e-resonance therapy results like taking vitamins – the longer you complete regular sessions, the more lasting the effects. Keep in mind, EEG and EKG recordings are also completed to monitor the effects/results of treatment as well as the best next steps. Results will last longer if you incorporate lifestyle changes into your healing journey as well.
Question 8: Is MeRT Safe for Children?
In short, yes! Of course, precautions are taken to ensure MeRT treatments are a safe procedure with minimal risk – as with any individual choosing this option. Overall, Magnetic e-Resonance Therapy is safe for children and adults. In fact, many children on the autism spectrum have received MeRT treatments and experience improvements with little to no side effects.
Question 9: Should Anyone NOT Get MeRT?
With any medical procedure, there are people who are not a good fit. Check out this list of Absolute and Relative Contraindications to see if there is any reason you would not be able to participate in MeRT treatment.
Question 10: How is MeRT Different from Neurofeedback?
MeRT therapy is different from Neurofeedback in this way: MeRT directly changes your brainwave patterns with magnetic stimulation, while neurofeedback trains your responses that alter brain activity. The difference is clearer if we compare these two treatments to a hypothetical situation of altering your heart rate.
Let's say a person has a goal of slowing their heart rate down. In this analogy, neurofeedback is like actively watching a heart monitor. You can see exactly when your heart rate is changing, and you learn a behavior in response to it. For example, if you see the pulse rate start to rise, you could start taking deep breaths to slow it back down.
Eventually, you'd train yourself to do this whenever your heart rate increases in the future. On the other hand, MeRT treatments are like administering medication to slow down your heart rate. This is not to say MeRT is medicinal, but only to make the comparison that it directly alters your heart rate without depending on your behavior/responses.
Getting Started with MeRT Therapy at Tri-Cities Functional Medicine
If Magnetic e-Resonance Therapy is an option you'd like to explore with a professional, Tri-Cities Functional Medicine in Tennessee is here to help! Dr. Radawi will work with you individually to achieve health for your unique brain.
Interested in MeRT Therapy? Get started with these three steps:
1) Watch our free MeRT webinar to learn about our approach to the cognitive and neurological concerns you are facing.
2) Schedule a free discovery call to discuss your health concerns and goals to see if MeRT is a good fit for you.
3) After your discovery call – if we are a good fit, you'll schedule your qEEG and consultation with our doctor to dive deeper and formulate an individualized treatment plan for you.
Tri-Cities Functional Medicine is located in Johnson City, Tennessee, and serves patients throughout East Tennessee and into Virginia and North Carolina. These areas include but are not limited to: Washington County, TN, Sullivan County, TN, Carter County, TN, Greene County, TN, Knox County, TN, Bristol, TN, Holston Valley, TN, Tri-Cities, TN, Walnut Hill, TN, Elizabethton, TN, Greeneville, TN, Morristown, TN, Blountville, TN, Bluff City, TN, Kingsport, TN, Jonesborough, TN, Colonial Heights, TN, Limestone, TN, Knoxville, TN, Bristol, VA, and Abingdon, VA.