Have you ever considered what exactly good health is? Have you wondered how to achieve it? At Tri-Cities Functional Medicine, we use our Five Pillars of Health curriculum as an essential part of your treatment plan. By combining these five areas of concern and treatment, we help you achieve holistic health. What are the five pillars? They include the following:
Stress and hormones
Nutrition and detoxification
Movement and fitness
Sleep
Mental, emotional, and spiritual well-being
By addressing all these areas together, Tri-Cities Functional Medicine can help you deal with chronic conditions and gain a better sense of overall health, well-being, and inner tranquility.
Would you like to find out how treatment based on the Five Pillars of Health can benefit you? Start with the first step today. Watch a free webinar.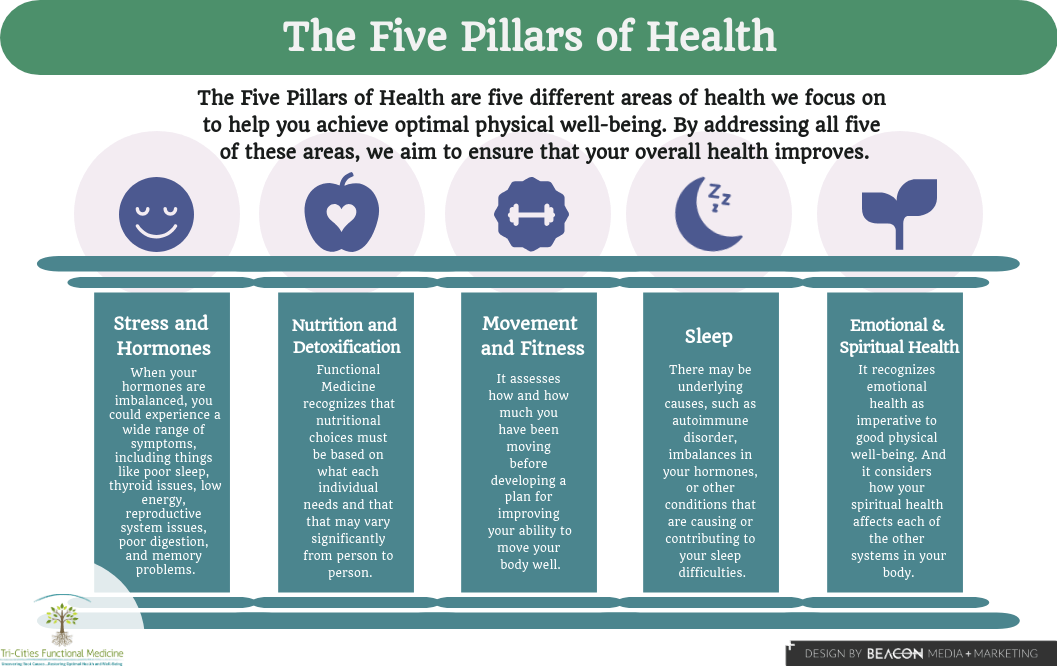 The Five Pillars of Health
The Five Pillars of Health are five different areas of health we focus on to help you achieve optimal well-being. Functional medicine addresses each of these areas, finding dysfunctions, deficiencies, and imbalances before creating a treatment plan that addresses them all.
One of the key elements of functional medicine is whole-body health. Thus, our Five Pillars of Health model provides an excellent framework for the health care we provide. By addressing all five of these areas, we aim to ensure that your overall health improves.
Stress and Hormones
This Pillar is concerned with maintaining hormonal balance and keeping stress at a reasonable level. Hormones can easily get out of balance. When your hormones are imbalanced, you could experience a wide range of symptoms, including things like poor sleep, thyroid issues, emotional difficulties, food cravings, low energy, brain fog, reproductive system issues, poor digestion, and memory problems. A functional medicine specialist often looks to lifestyle changes and then natural hormones as a part of the solution to get your hormonal levels back into balance.
Stress is in the same Pillar as hormones. In fact, many of the same problems created by hormonal imbalances also happen due to too much stress. What's more, excessive stress can affect the balance of your hormones, too. Although a certain amount of stress may often motivate you to accomplish things, too much stress for an extended period of time leads to a variety of health problems. By paying attention to your stress and hormone levels, functional medicine professionals can offer a treatment plan that will help you gain a healthy balance of each.
Nutrition and Detoxification
Nutrition and detoxification make up our second Pillar of Health. Getting proper nutrition requires first knowing your body's needs and then giving your body the food and supplements that will improve your health. However, there are many different takes on what proper nutrition looks like. Functional Medicine recognizes that nutritional choices must be based on what each individual needs and that may vary significantly from person to person. Overall, everyone should focus on getting whole foods with a lot of color.
Detoxification is the second piece of this Pillar. Everything you come into contact with from your environment and every substance you put on or take into your body could potentially expose you to toxins. Your body even makes some toxins under certain conditions. Therefore, optimal health requires that you not only take in healthy foods but that you also get rid of the toxins that are already within your body. Detoxification is an ongoing process that must be addressed regularly.
Movement and Fitness
A sedentary lifestyle can lead to an unhealthy life. That is why the Movement and Fitness Pillar of Health is so critical. For movement, we start by identifying any difficulties you have in moving your muscles and joints. It assesses how and how much you have been moving before developing a plan for improving your ability to move your body well. This process can uncover and address issues like arthritis, chronic pain, chronic fatigue, fibromyalgia, and other health problems that impact your movement.
Fitness includes the practice of movement, daily exercise, and fitness routines that enhance your overall health. It is not enough to know that you need to exercise. Instead, you need to find the right movement and fitness path for you. Since functional medicine sees you as a unique individual, it is well-suited to find this personalized fitness solution for you.
Sleep
Sleep is a natural for inclusion in the Five Pillars of Health. After all, poor sleep, interrupted sleep, or sleep that isn't restorative can impact every other aspect of your health. In addition, there may be underlying causes, such as autoimmune disorder, imbalances in your hormones, or other conditions that are causing or contributing to your sleep difficulties.
Besides that, the direct results of sleep problems can include poor daily functioning, brain fog, and falling asleep in dangerous situations such as while driving. You may experience chronic fatigue due to a consistent lack of sleep.
Therefore, functional medicine seeks to discover the sources of sleep issues and address them with effective treatments. Then, as your sleep improves, you become stronger, more alert, and generally healthier day by day.
Mental, Emotional, and Spiritual Health
The last of the Five Pillars of Health relates to your mental, emotional, and spiritual health. Traditional medicine often ignores these issues or separates them as psychiatric disorders unrelated to your overall health.
This is an area where functional medicine offers help you won't find in other types of medical care. It addresses mental health issues as a part of your whole-body health. It recognizes emotional health as imperative to good physical well-being. And it considers how your spiritual health affects each of the other systems in your body. Mindset is a crucial component of this pillar.
More About the Functional Medicine Approach to Health
In functional medicine, the overarching goal is to help you achieve good health in all five parts of the Pillars of Health. It accomplishes this in a very specific way. First, it treats each person as a unique individual with their own unique strengths and health issues. The treatments are customized to you based on tests, assessments, and diagnoses from your functional medicine provider. Your input is also crucial because there are many things about you that you know better than anyone else.
In addition, functional medicine views you as a whole person. Therefore, any treatments you receive are designed to work together to help every part of your body function better as a whole and increase the other aspects of your health. You will not have to worry that a treatment for one condition will make another condition worse, as is often the case with other types of medical treatment. Instead, the treatments combine in a positive way to make you healthier throughout your entire body.
Want to learn more about how Tri-Cities Functional Medicine can help you address the Five Pillars of Health in your life? Take the first step:
Watch our free webinar to learn about our approach to the health concerns you are facing.
Schedule a Free Discovery Call to discuss your health concerns and goals to see if our practice is a good fit for you.
After your discovery call – if we are a good fit, you'll schedule a consultation with our doctor to dive deeper and formulate an individualized treatment plan for you.
Tri-Cities Functional Medicine is located in Johnson City, Tennessee, and serves patients throughout East Tennessee and into Virginia and North Carolina. These areas include but are not limited to Washington County, TN, Sullivan County, TN, Carter County, TN, Greene County, TN, Knox County, TN, Bristol, TN, Holston Valley, TN, Tri-Cities, TN, Walnut Hill, TN, Elizabethton, TN, Greeneville, TN, Morristown, TN, Blountville, TN, Bluff City, TN, Kingsport, TN, Jonesborough, TN, Colonial Heights, TN, Limestone, TN, Knoxville, TN, Bristol, VA, and Abingdon, VA.