[Webinar] Are hot flashes, headaches, and sleep problems making your life uncomfortable or even miserable? Would you like to speak with a doctor who takes your discomfort seriously and gets to the root of the problem? Find out how Dr. Radawi uses the functional medicine approach to address menopause symptoms.

Click Here to Watch Our Free Webinar!
Are you suffering from the symptoms of menopause? Hot flashes, headaches, mood swings, weight gain, and sleep troubles are among the common menopause symptoms. While conventional medicine focuses on managing these symptoms, functional medicine takes a different approach. By looking at the underlying causes of your symptoms, this holistic approach discovers why you are experiencing them in the first place.
What Is the Functional Medicine Approach?
Functional Medicine offers a new way to look at your health. Rather than focusing on symptom management, as conventional medicine does, functional medicine goes deeper to see what's really happening inside your body. Here are the main components of our clinic for functional medicine in Tennessee.
Holistic
At Tri-Cities Functional Medicine in Tennessee, we treat you as a whole person. You are more than your menopause symptoms. That's why we look at the whole package of your physical and mental health. When you tell Dr. Radawi about your menopause symptoms, he acknowledges your suffering but also discusses and tests to determine your overall health as well as other complicating problems.
Patient-Centered
We view patient-centered treatment as a component of the highest standard of care in medicine. Therefore, we put patients first in our functional medicine clinic. Your needs, desires, and capabilities are what drive your health outcomes. Your comfort and priorities also guide us in creating a customized treatment plan for you as an individual woman who comes to us with menopause symptoms.
Discovering Underlying Causes
It would be easy to listen to your menopause symptoms and immediately supply you with hormone pills. That's the approach you most often see in conventional medicine. It might take more time and a deeper investigation to find the underlying causes of your symptoms before writing a treatment plan.
Yet, we consider finding the root source of the problems to be one of the most critical parts of our treatment for women with menopause symptoms. If you are having hot flashes, rather than treating that symptom, Dr. Radawi searches for the underlying reason that this is happening to you in particular.
Finding Balance
The best way to have a healthy body and mind is to find balance. This is something we help you achieve. Often, when you are having a symptom of menopause, it's worse because your body is out of balance in some way. After a thorough discussion and any necessary lab tests, we look for imbalances. These can often be corrected with a combination of lifestyle changes such as dietary changes, exercise programs, balanced sleep, stress transformation and supplements.
How Can Functional Medicine Help with Menopause?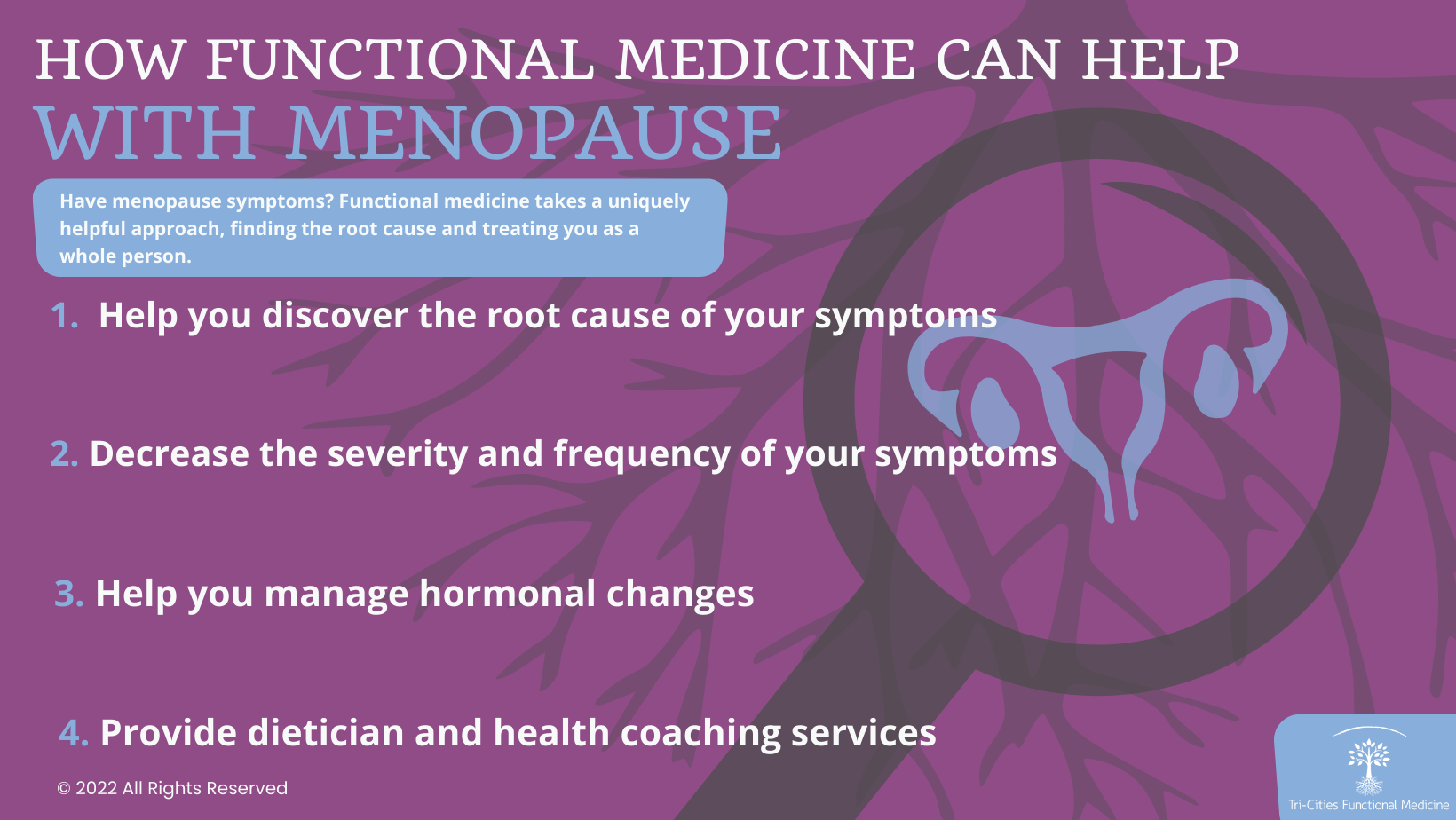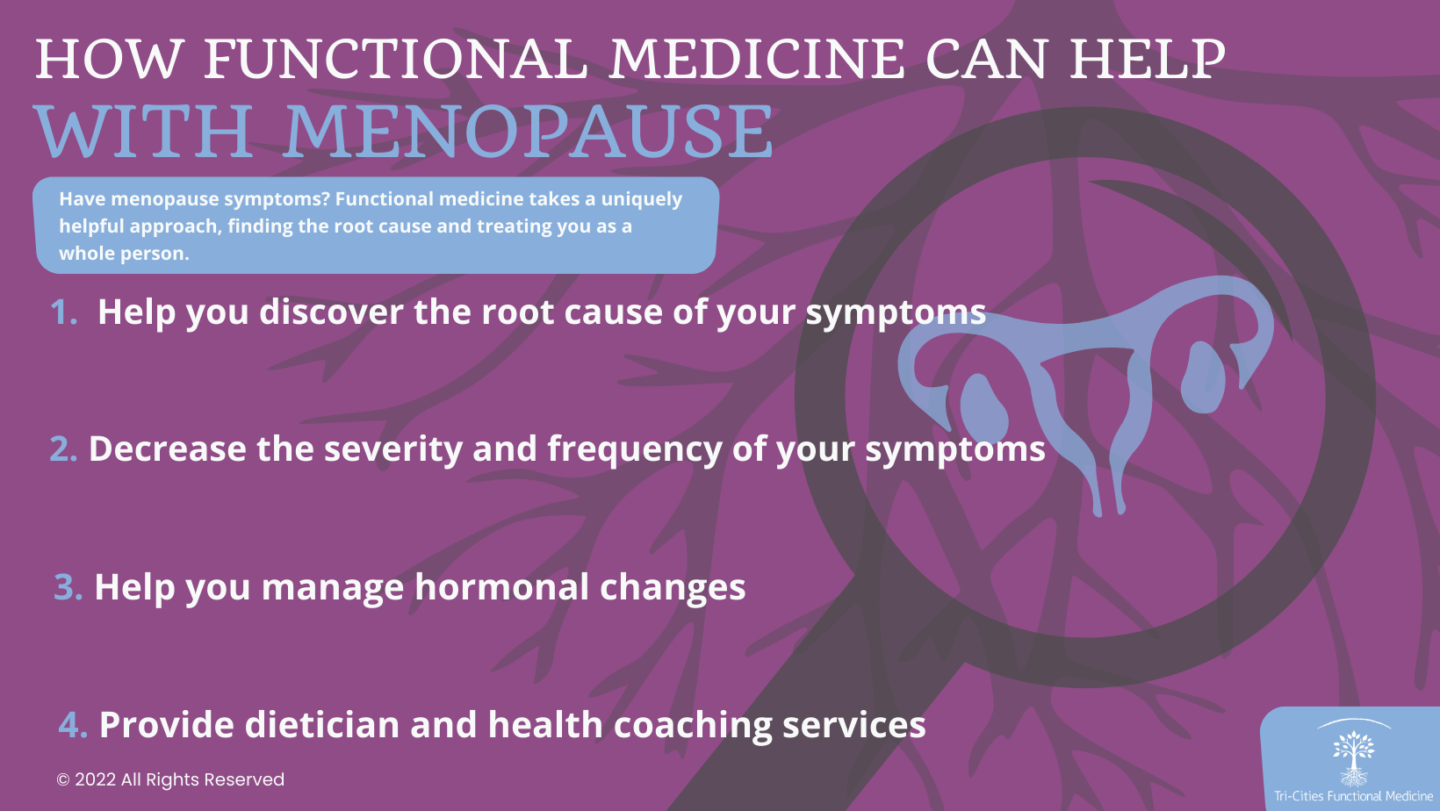 Functional medicine provides a new way to deal with menopause symptoms. From the moment you come to our clinic, we treat you with respect and compassion. When you meet with Dr. Radawi, you will likely notice the difference between conventional medicine and functional medicine right away. As a functional medicine doctor, Dr. Radawi will provide the following types of care.
Discovering the Root Cause
People often suggest that menopause symptoms are natural and normal and that women should just suffer through them without complaining. The truth is that although these symptoms happen to many women, they don't happen to everyone.
So, if you are experiencing distressing menopause symptoms, there is an underlying reason why you suffer and someone else doesn't. This is the point of looking for the root cause. It's not that menopause isn't a natural process. It's that you don't need to suffer as you do.
Decreasing the Severity and Frequency of Symptoms
Menopause presents itself in different ways for different women. One woman might have severe headaches, another might have multiple symptoms, and someone else might have no symptoms at all. Women who seek help for menopause symptoms often do so because their symptoms are severe or very frequent.
For these women, we can offer many dietary recommendations and health coaching. We can suggest ways to minimize symptoms. For example, we might start by recommending that you drink less coffee to avoid triggering hot flashes. Or, we might suggest avoiding sugary foods that make your symptoms worse.
Managing Hormonal Changes
Your hormones change as you go through menopause. Your ovaries no longer produce as much estrogen or progesterone as they once did. This situation sometimes brings menopause symptoms. The conventional answer to this change is to prescribe hormone replacement therapy (HRT). These hormones are almost always synthetic hormones.
However, at Tri-Cities Functional Medicine in Tennessee, Dr. Radawi considers who you are, your medical history, and your overall health condition to determine the best course of action. Then, in some cases, you may receive natural hormones or get suggestions on natural ways to boost your body's hormone production.
Nutritionist and Health Coaching
Our Tri-Cities Functional Medicine team includes health coaches and a highly-qualified registered dietician-nutritionist. This is an important part of our treatment for menopause symptoms. Dr. Radawi and our entire team are here to help you on your journey to better health. Yet, you are also a valuable member of this group effort.
We provide you with an eating plan that's custom-designed for you. With a keen understanding of healthy nutrition and a sincere understanding of your unique needs and preferences, we create a plan that will work for you to help reduce or relieve menopause symptoms. Furthermore, we will help you develop an exercise routine and teach you several other measures to take to feel better every day.
Should You Seek Help Before Menopause Begins?
Women often put off seeing a doctor about menopause until it's in full swing. However, going into our clinic before menopause symptoms begin can be an excellent idea. Why? For one thing, we understand how nutritional choices make a significant difference in when you begin menopause and how severe and frequent your symptoms might be. Thus, by starting treatment early, you might avoid the worst of the symptoms.
Want to learn more about menopause symptoms and functional medicine? Read our blog: Your Body and Menopause: Improving Hormone Function.
Functional Medicine in Tennessee
Functional medicine takes a new approach to help women with menopause symptoms. We don't ever automatically prescribe hormones and send you on your way. We look deeper to find the root cause for your severe or frequent troublesome symptoms.
Our whole-person, total-body approach benefits you when you are having menopause symptoms. We see and respect you for who you are as a unique individual with a one-of-a-kind physical and mental makeup. From there, we determine what you need to thrive through this phase of your life.
Dr. Radawi, a board-certified doctor with extensive advanced training in functional medicine , leads the way in your treatment. By observing, listening, and testing, he determines the underlying problems behind your menopause symptoms. Our entire team contributes to this work, including nutritional guidance and health coaching.
If your menopause symptoms are making your life miserable, we recommend seeing Dr. Radawi at Tri-Cities Functional Medicine in Tennessee. Dr. Radawi uses the functional medicine approach to get to the source of your problems and correct it through holistic, person-centered treatments. If you want to explore what our clinic offers, you can reach out and schedule a free discovery call with us. Here's how you begin:
● Watch our free webinar to learn about our approach to the health concerns you are facing.
● Schedule a free discovery call to discuss your health concerns and goals to see if our practice is a good fit for you.
● After your discovery call – if we are a good fit, you'll schedule a consultation with our doctor to dive deeper and formulate an individualized treatment plan for you.
Tri-Cities Functional Medicine is located in Johnson City, Tennessee, and serves patients throughout East Tennessee and into Virginia and North Carolina. These areas include but are not limited to: Washington County, TN, Sullivan County, TN, Carter County, TN, Greene County, TN, Knox County, TN, Bristol, TN, Holston Valley, TN, Tri-Cities, TN, Walnut Hill, TN, Elizabethton, TN, Greeneville, TN, Morristown, TN, Blountville, TN, Bluff City, TN, Kingsport, TN, Jonesborough, TN, Colonial Heights, TN, Limestone, TN, Knoxville, TN, Bristol, VA, and Abingdon, VA