[Webinar] Do you suspect you have an autoimmune disorder? Or do you already know you have an autoimmune disease? Check this list of the ten most common ones that men experience and how functional medicine can help. Click Here to
While autoimmune diseases are more common in women, men are subject to a wide range of autoimmune disease as well. According to the Autoimmune Association, more than 4.7 million men in the U.S. had an autoimmune diagnosis at the time of the last major survey. However, this data – though the most recent – is relatively old. Plus, it doesn't count men who have not yet been diagnosed. On top of that, men traditionally have been less inclined to seek help, although that is beginning to change.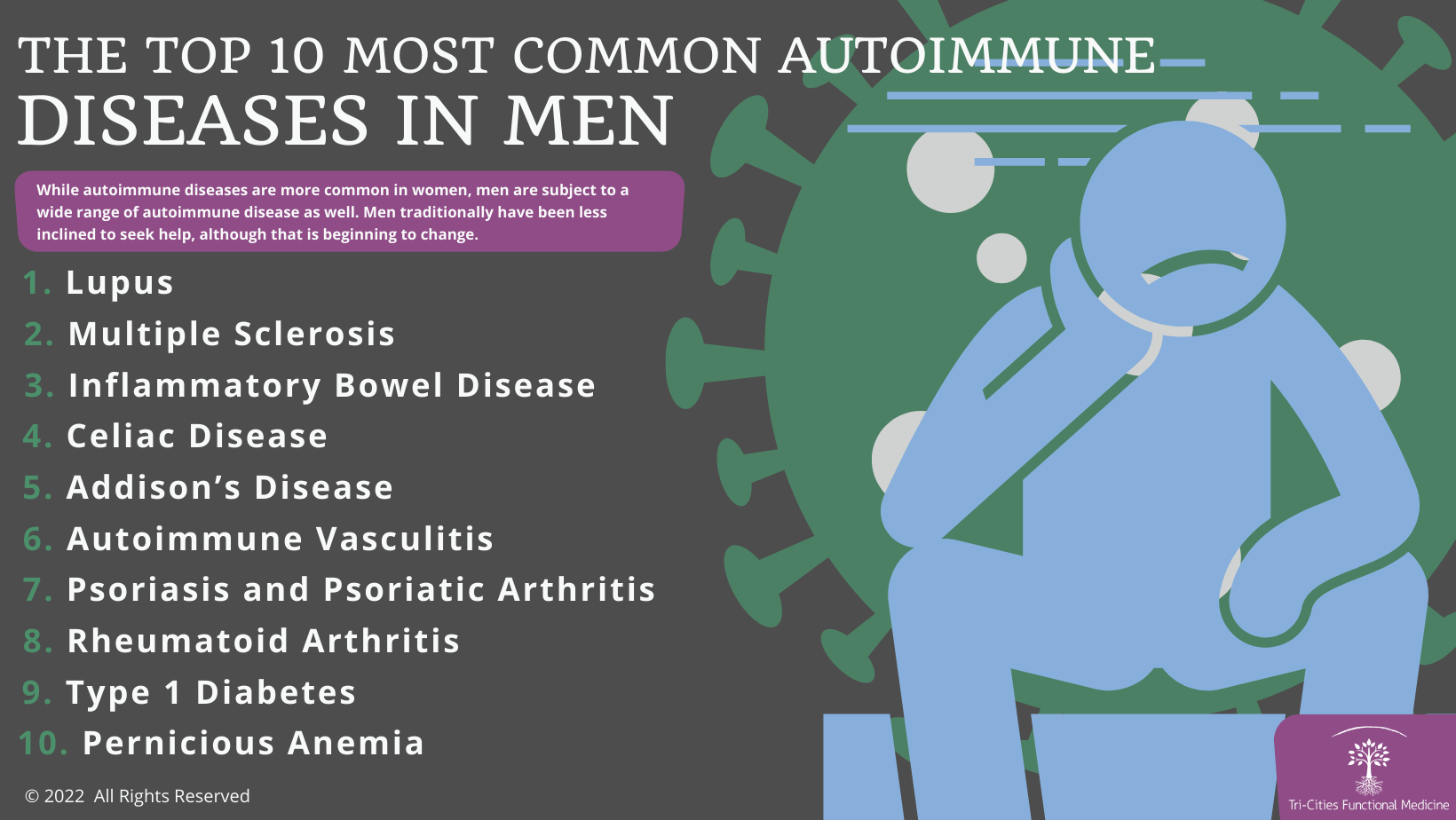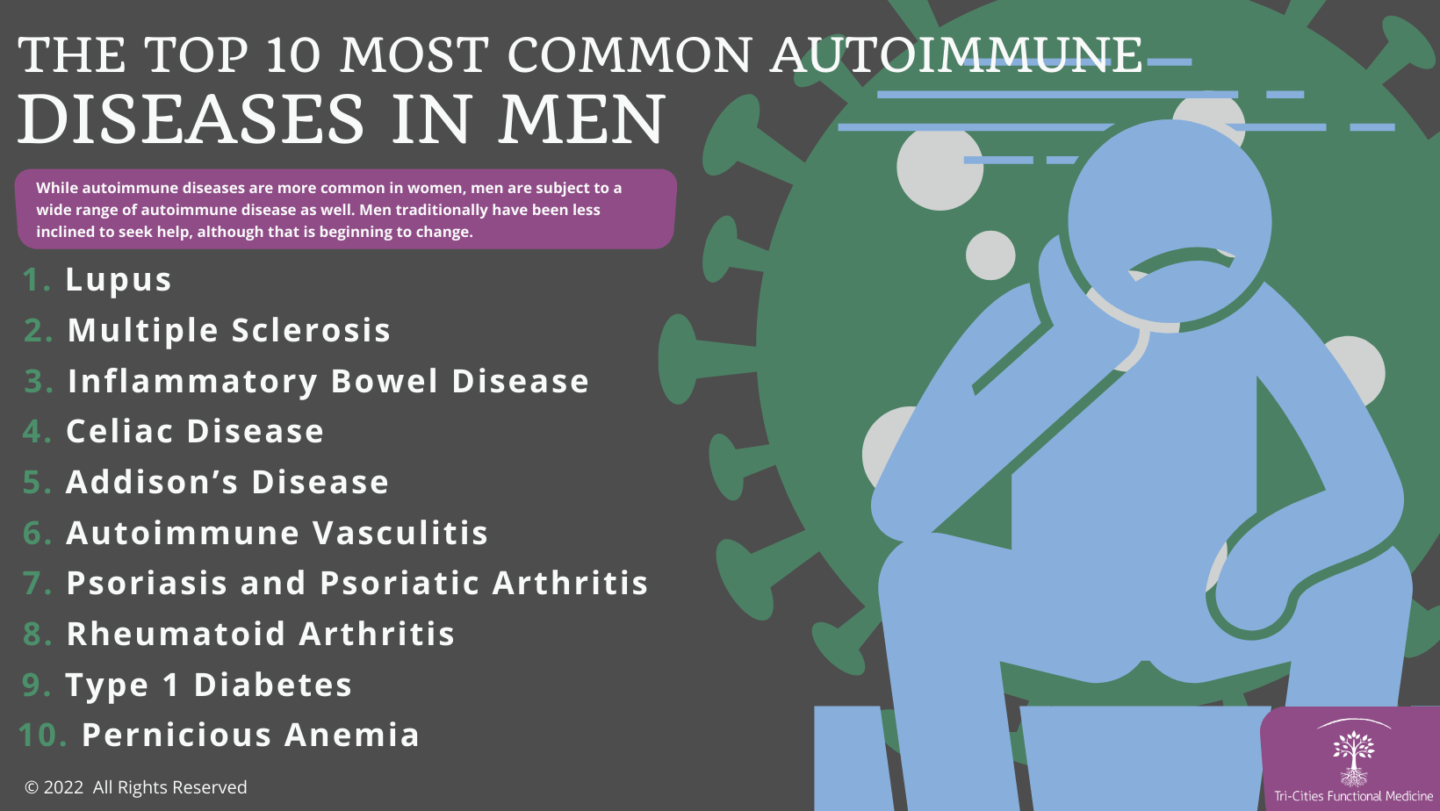 For those reasons, it's important to address men's struggles and frustration with autoimmune diseases. Let's start by looking at the ten most common autoimmune diseases that men get.
1. Lupus
Lupus is a chronic disease in which your immune system attacks your body, bringing pain and inflammation. It can cause harm to your joints, skin, and organs like your heart and kidneys. In addition, it can bring pain in your bones, muscles, and tendons, disrupt your digestive system, and affect both your lungs and your nervous system, as well as your eyes and memory.
About one in ten people who have lupus are men. Men also tend to have different lupus symptoms than women. Anemia, organ damage, blood clots, and seizures are more likely to occur in men with lupus.
2. Multiple Sclerosis
Multiple sclerosis (M.S.) is a chronic disease in which the immune system disrupts the signals between the brain and the body. Men are about half as likely to have M.S. as women. Men are often diagnosed with primary progressive M.S. That means the symptoms don't go away or improve. 
Without effective treatment, men more often get faster disease progression, brain atrophy, and cognitive impairment. They have more of a certain type of lesion called T1. Their gray matter atrophies, their retinal nerve fiber thins, and they lose more axons from their spinal cord.
3. Inflammatory Bowel Disease
Inflammatory bowel disease (IBD) usually affects men in different ways than women. Both genders usually get the primary symptoms of diarrhea, blood in stool, and abdominal pain. Men with IBD more often get a rare liver disease or colorectal cancer. They might also have sexual dysfunction.
Men tend to get a diagnosis of IBD later in life than women. About three million people in America have IBD, and about 1.2 million of those are men.
4. Celiac Disease
Celiac disease happens when eating gluten triggers pain, diarrhea, fatigue, constipation, or nausea. The small intestine is strongly affected by celiac disease. About a third to a half of people who get celiac disease are men. Men more often have sexual dysfunction, osteoporosis, and a skin disorder called dermatitis herpetiformis. 
5. Addison's Disease
Men get Addison's Disease about as often as women. It is a rare disease that causes fatigue, darker patches of skin, vitiligo (white patches in the skin), gastrointestinal problems, low blood pressure, and changes in emotions and behaviors.
6. Autoimmune Vasculitis
Vasculitis actually refers to a group of several different conditions. What they have in common is poor blood flow, leading to shortness of breath, a cough, numbness in extremities, and red spots, lumps, or sores on the skin. There are several types of vasculitis, but the autoimmune type affects men as well as women. Vasculitis is less common in men than women, with about 40 men per 100,000 getting vasculitis. 
7. Psoriasis and Psoriatic Arthritis
Psoriasis is a skin condition in which the skin develops patches of thick, reddish skin and scales that appear silver. Psoriasis is also related to another autoimmune condition called psoriatic arthritis. Men and women are equally likely to get psoriatic arthritis, and about 15 people in every 100,000 have it.
8. Rheumatoid Arthritis
If you are a man, you are half as likely to get rheumatoid arthritis than a woman. About 1.7 percent of men have it at some time in their lives. As your immune system attacks your healthy joints, you begin to feel pain, swelling, stiffness, tenderness, and weakness in your joints. You might also experience fevers, fatigue, and loss of appetite. 
9. Type 1 Diabetes
Type 1 diabetes is an autoimmune disorder in which you may have a huge appetite but find yourself losing weight unexpectedly. You may also feel sleepy, have labored breathing, have vision changes, or fall into unconsciousness. This disease can be life-threatening. Men are actually a little more likely to get type 1 diabetes than women, with about 0.64% of men, compared to 0.46% of women. 
10. Pernicious Anemia
Pernicious anemia causes your body to have fewer red blood cells. Because red blood cells are needed to deliver oxygen to the body and brain, a lack of them can affect your entire body. The difference between the number of women and the number of men who get pernicious anemia is very small.
General Symptoms of Autoimmune Disorders
Suppose you haven't been diagnosed with an autoimmune disorder but suspect you might have one. In that case, it's a good idea to look at the general symptoms that many autoimmune diseases have in common. Here is a list of things to be aware of.
Skin rashes or patches of different colors than usual
Bruises and cuts happen easily
Pain or swelling in joints
Glands are swollen
Fatigue
Fever that keeps coming back
Stomach pain
Problems with digestion
Muscle contraction becomes difficult
Losing weight without trying
Numbness in your arms and legs
If you have several of these symptoms or even one that is extremely bothersome, it makes sense to get an expert opinion. At Tri-Cities Functional Medicine in Tennessee, you can talk to Dr. Radawi and get the answers you need.
Need to know more about autoimmune disorders? Read our blog Autoimmune Disease Symptom Checklist: Top Warning Signs
How Functional Medicine Approaches Autoimmune Diseases
The functional medicine approach to autoimmune diseases involves recognizing the uniqueness of each patient. In addition, we take a holistic approach, finding solutions that address the root cause of your illness and all the ways it affects your body.
Located in the Tri-Cities area of Tennessee, we welcome patients who want to feel better and function more easily. Dr. Radawi listens to your health concerns, identifies the root cause, and provides expert care, while our Tri-Cities Functional Medicine team provides support and health coaching.
If you have been suffering from an autoimmune disorder or suspect that you might have one, you can begin a journey to better health today. Take the first step by watching our free seminar. Here's how to start:
After your discovery call – if we are a good fit, you'll schedule a consultation with our doctor to dive deeper and formulate an individualized treatment plan for you.
Tri-Cities Functional Medicine is located in Johnson City, Tennessee, and serves patients throughout East Tennessee and into Virginia and North Carolina. These areas include but are not limited to: Washington County, TN, Sullivan County, TN, Carter County, TN, Greene County, TN, Knox County, TN, Bristol, TN, Holston Valley, TN, Tri-Cities, TN, Walnut Hill, TN, Elizabethton, TN, Greeneville, TN, Morristown, TN, Blountville, TN, Bluff City, TN, Kingsport, TN, Jonesborough, TN, Colonial Heights, TN, Limestone, TN, Knoxville, TN, Bristol, VA, and Abingdon, VA