Conventional medicine primarily relies on medications like beta-interferon and Copaxone to treat MS. Functional Medicine takes a different approach, digging deeper to discover the underlying causes of the disease and reverse it. Here's a look at how the two approaches compare.
Would you like to explore functional medicine treatment for MS? Watch a free webinar to learn more.
What Is MS?
Before you begin to look at the different approaches to MS treatment, it might help to ponder the nature of the disease for a moment. First, the scientific community still has much to learn about this neurological disease. Researchers and practitioners have discovered much already. Yet, many questions are still unanswered. MS is an often unpredictable, chronic disease that affects the central nervous system.
Autoimmune Disorder
It appears that MS is an autoimmune disorder. Immune cells in the brain attack the myelin sheaths, which are fatty coatings protecting the nerve fibers. As these sheaths in the brain and spinal cord become damaged, the nerves can no longer pass messages in the brain or between it and other parts of the body.
Symptoms of MS
Many people with MS go many months or even years without a diagnosis. Some of the signs are the same as other neurological diseases, for instance. Usually, the first signs people notice are vision changes, problems with walking or gait, and physical sensations like pain, numbness, or pins and needles. Later, the symptoms may show up as weakness and movement problems, cognitive difficulties, bowel or bladder incontinence, and blindness, to name a few.
Course of Disease
Of course, the course of any disease will look different from one person to another. However, there are two broad categories that most cases of MS fall into as far as their course. The first is relapsing-remitting MS, which is the most common. The disease flares, new symptoms arise, and the disease relapses. Then, the symptoms decrease, allowing the person to have a period of remission. The other type of MS is primary-progressive, which comes on gradually and progresses steadily without any relapses.
Conventional Approach to MS Treatment
The primary MS treatments used in conventional medicine are medications. An MS patient treated in a conventional way will usually have a very full pillbox, including medications for a wide variety of problems, such as:
Bladder problems
Bowel dysfunction
Emotional problems
Fatigue
Itching
Pain
Depression
Vertigo or dizziness
Sexual problems
Spasticity
Tremors
Gait
These medications are intended to deal with the symptoms and effects of the disease. However, in addition to these medications, conventional doctors typically add medications designed to change the course of the disease. These include injections, oral medications, and infusions. The purpose of modifying the disease's course is to reduce how many times you suffer relapses, keep the disease from progressing, and decrease new damage to the myelin.
While conventional medicine seeks to solve most problems with medications, they do sometimes add rehabilitative services with the aim of improving daily functioning. A traditional doctor might also help arrange for equipment, such as a cane or braces.
The Functional Medicine Approach to MS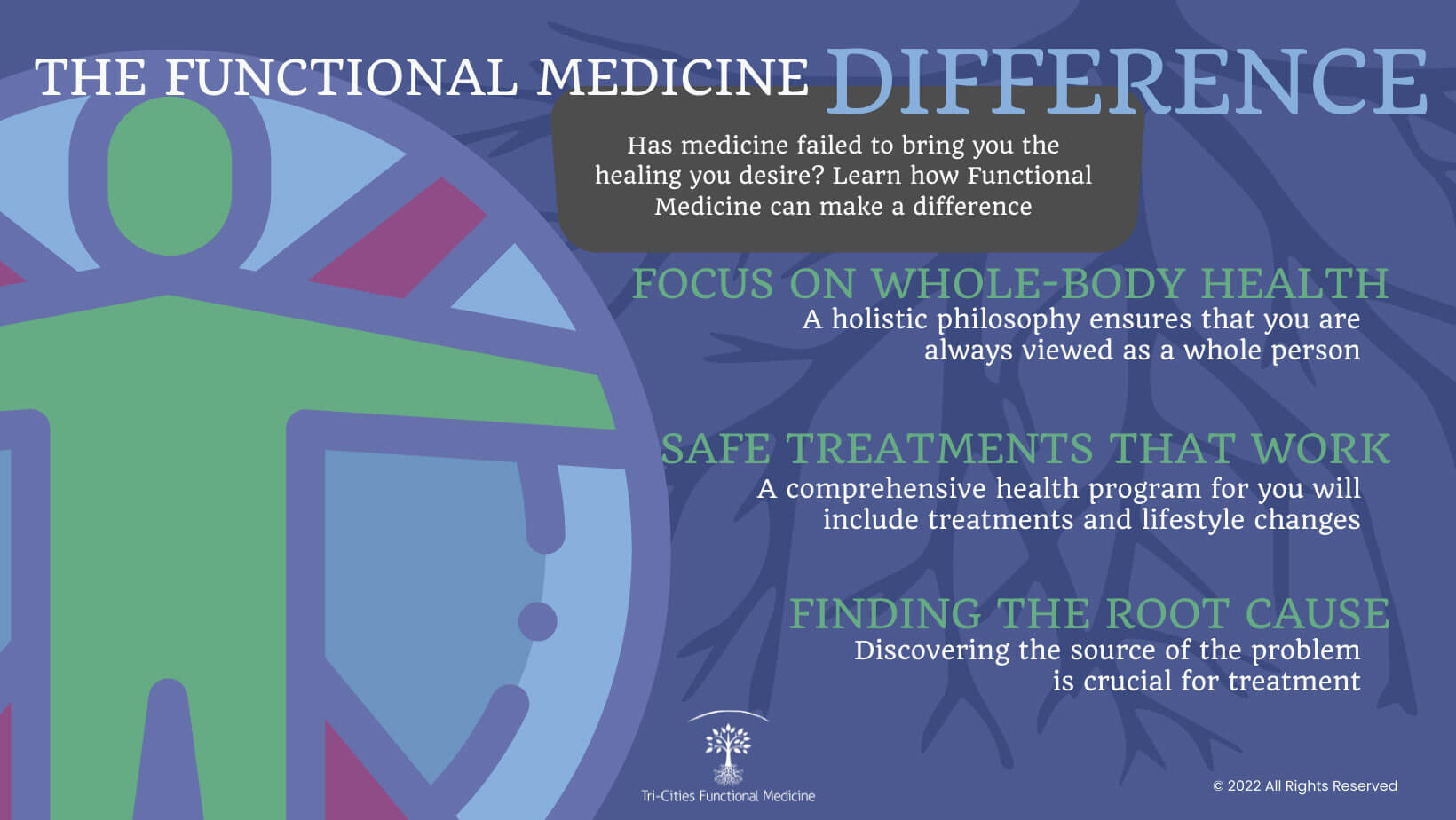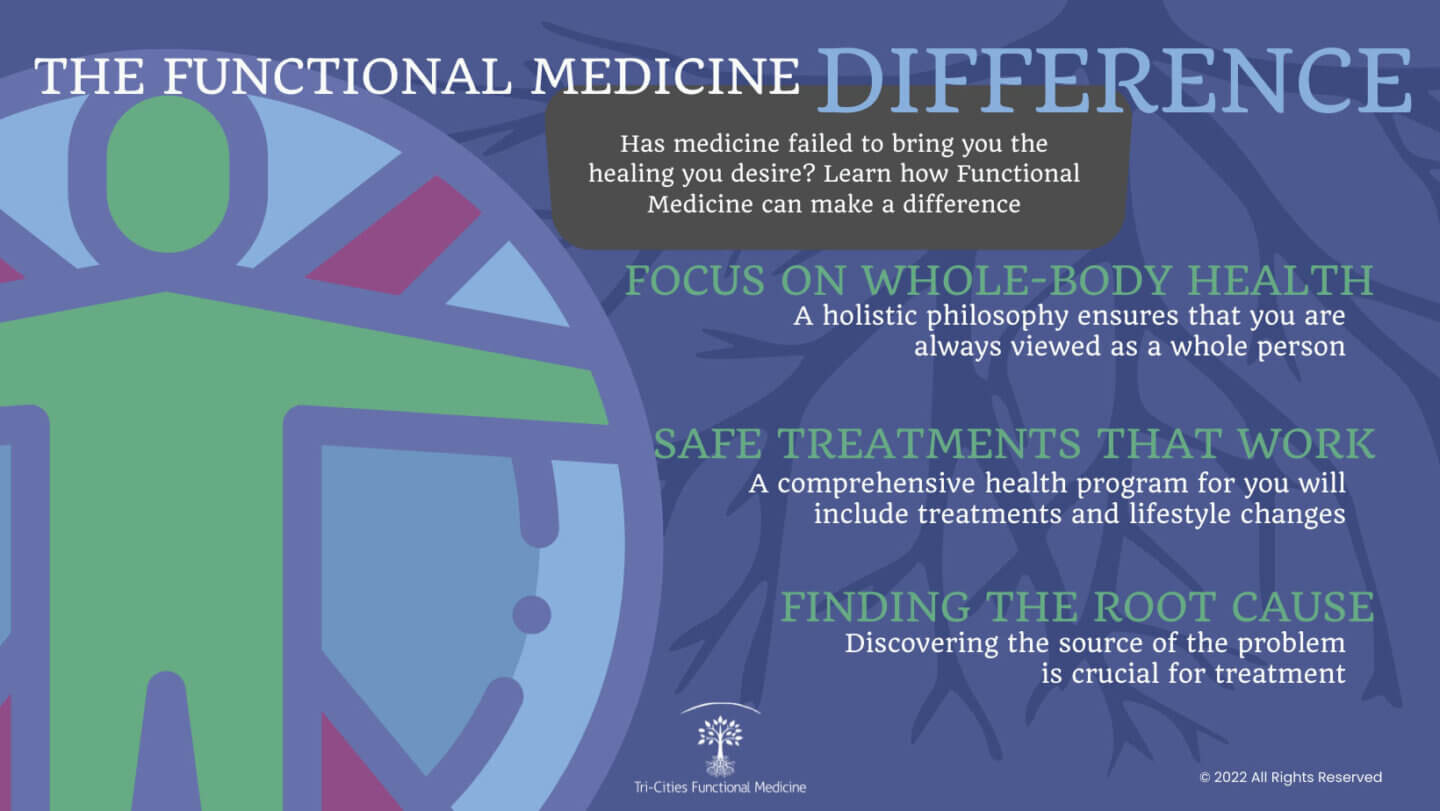 The Functional Medicine approach to MS is completely different from the conventional style. First, at Tri-Cities Functional Medicine, we value building a relationship with our clients. Over our many years of experience, we have seen the phenomenal results that happen when our doctors, our health coaches, and the individuals seeking treatment work together.
Whole-Body Healing
Conventional medicine typically puts more faith in medications as a cure than anything else. However, instead of throwing pills at people with MS every time they have a new symptom, Functional Medicine doctors address each patient as a whole person. They look beyond the obvious to find the underlying causes. Then, rather than trying to fix it with drugs, they look for other methods that promote whole-body healing.
Functional Medicine Health Coaching
For most people, a diagnosis of MS is the beginning of an entirely new kind of education than any they ever had before. Even if they know a lot about this disease, they've never had the experience of viewing it from the perspective of someone who has MS. So, the first goal for the functional medicine team after assessing your condition is to teach you what you need to know about the disease, how it could affect you, and how improving overall health will decrease the effects of the disease.
When you get this education from your Tri-Cities Functional Medicine Tennessee clinic, we provide you with a range of resources to use on your own or with your health coach. Some of our educational resources include:
Courses such as the 5 Pillars of Health
Access to our Health Library
Relaxation Room and Sauna
Teaching Kitchen
One of the most important functions of your program is a nutritional plan designed specifically for you. This program may include dietary guidelines, recommendations on supplements, and advice on hydration. With a custom-designed nutritional plan that covers all the bases, you can move steadily towards an all-around healthier life, even with a diagnosis of MS.
Your food plan will provide you with the knowledge to choose the best foods to decrease the damage caused by MS. However, we ensure that you are getting every ingredient needed to become healthier. We may check your levels of various nutrients and add supplements if you need more than your meals can provide.
Stress Reduction
Dealing with a condition like MS can be extremely stressful, especially when added to everyday stress that everyone must manage. Even more challenging, the disease may cause problems that limit your ability to do anything from everyday chores to work assignments to moving from one place to another. These limitations compound your stress since so many things that were once easy now take much more effort and concentration.
At Tri-Cities Functional Medicine in East Tennessee , our team offers many solutions to the increased stress you may feel right now in addition to the education we provide. For example, we have a Relaxation Room that helps you de-stress. Our Full-Spectrum Sauna provides a means to detox your body, improving your overall health and leaving you feeling more physically relaxed and comfortable.
Getting Help with MS from Tri-Cities Functional Medicine in Tennessee
Functional medicine offers a comprehensive, integrated plan to uncover and address the causes at the root of your disease. Before you call, consider where you are in your quest to gain better health. Do you already have a diagnosis, or do you still wonder what the problem might be? What types of symptoms have you been noticing? What do you need to know that no one has yet explained?
Talking to the team at Tri-Cities Functional Medicine is the best way to find out how we can help you achieve better health, reduced pain, and greater daily functioning. Our team is led by Dr. Joseph Radawi and includes health coaches, and coordinators. Together, we can discover the real problems behind your disease and provide the Functional Medicine interventions that are best for you.
Want to learn more about our functional medicine approach to treating MS? Take the first step:
Watch our free webinar to learn about our approach to the health concerns you are facing.
Schedule a Free Discovery Call to discuss your health concerns and goals to see if our practice is a good fit for you.
After your discovery call – if we are a good fit, you'll schedule a consultation with our doctor to dive deeper and formulate an individualized treatment plan for you.
Tri-Cities Functional Medicine is located in Johnson City, Tennessee, and serves patients throughout Tennessee and into Virginia, North Carolina, West Virginia and Kentucky. These areas include but are not limited to: Washington County, TN, Sullivan County, TN, Carter County, TN, Greene County, TN, Knox County, TN, Bristol, TN, Holston Valley, TN, Tri-Cities, TN, Walnut Hill, TN, Elizabethton, TN, Greeneville, TN, Morristown, TN, Blountville, TN, Bluff City, TN, Kingsport, TN, Jonesborough, TN, Colonial Heights, TN, Limestone, TN, Knoxville, TN, Bristol, VA, Abingdon, VA, Grundy, VA, Asheville, NC, Boone, NC.