Has conventional medicine fallen short of healing you? Have you ever seen it add more problems than it fixes? If so, you are not alone. Fortunately, there is hope for you. With Functional Medicine in Tennessee, you can finally experience the healing you need. Here's the difference. Conventional medicine looks at your symptoms and prescribes medicine to minimize your discomfort. Functional medicine, on the other hand, looks for the root cause and addresses it to provide true healing.
Looking for healing that goes beyond symptom relief? Watch a free webinar to learn how functional medicine can help
How Conventional Medicine Fails
Conventional medicine does have an important role to play. For example, if you break a bone, a traditional doctor will set it for you. And if you have a severe infection, they will prescribe an antibiotic or antiviral. Traditionally trained doctors help people in many ways.
So, where does conventional medicine fail? While traditional Western medicine can accomplish much, it lacks two important features. First, unlike Functional Medicine in Tennessee, it treats symptoms rather than causes. Second, it views patients as people who need specific problems fixed rather than seeing them as people who need whole-body healing.
The Problem with Treating Only Symptoms
Treating symptoms may sound great if you have a condition that causes you pain or disrupts your life. For example, if you have chronic pain, you may be happy to have a pain med that gives you some relief, even for a short while.
The problem is that the symptoms will continuously come back, time and time again. After all, the source of the problem is still there. For instance, if you have unexplained inflammation and the doctor gives you something to reduce it, you still do not know where it came from or what you need to do in the long term.
In the meantime, your body suffers from side effects, making your overall health worse. Eventually, your body adjusts to the medications, and they don't help as much as they did at first. So, your doctor increases your dose. You may also become addicted to certain pain medications.
Focus on Fixing Specific Problems
When a medical doctor looks at your symptoms, they work to relieve those specific symptoms. Even if they go deeper to find the illness behind the symptoms, they tend to stick to that one issue, ignoring other parts and functions of your body. While medication or surgery might relieve the one problem, you may be left with poorer overall health unless the doctor addresses your whole-body health.
The Functional Medicine Difference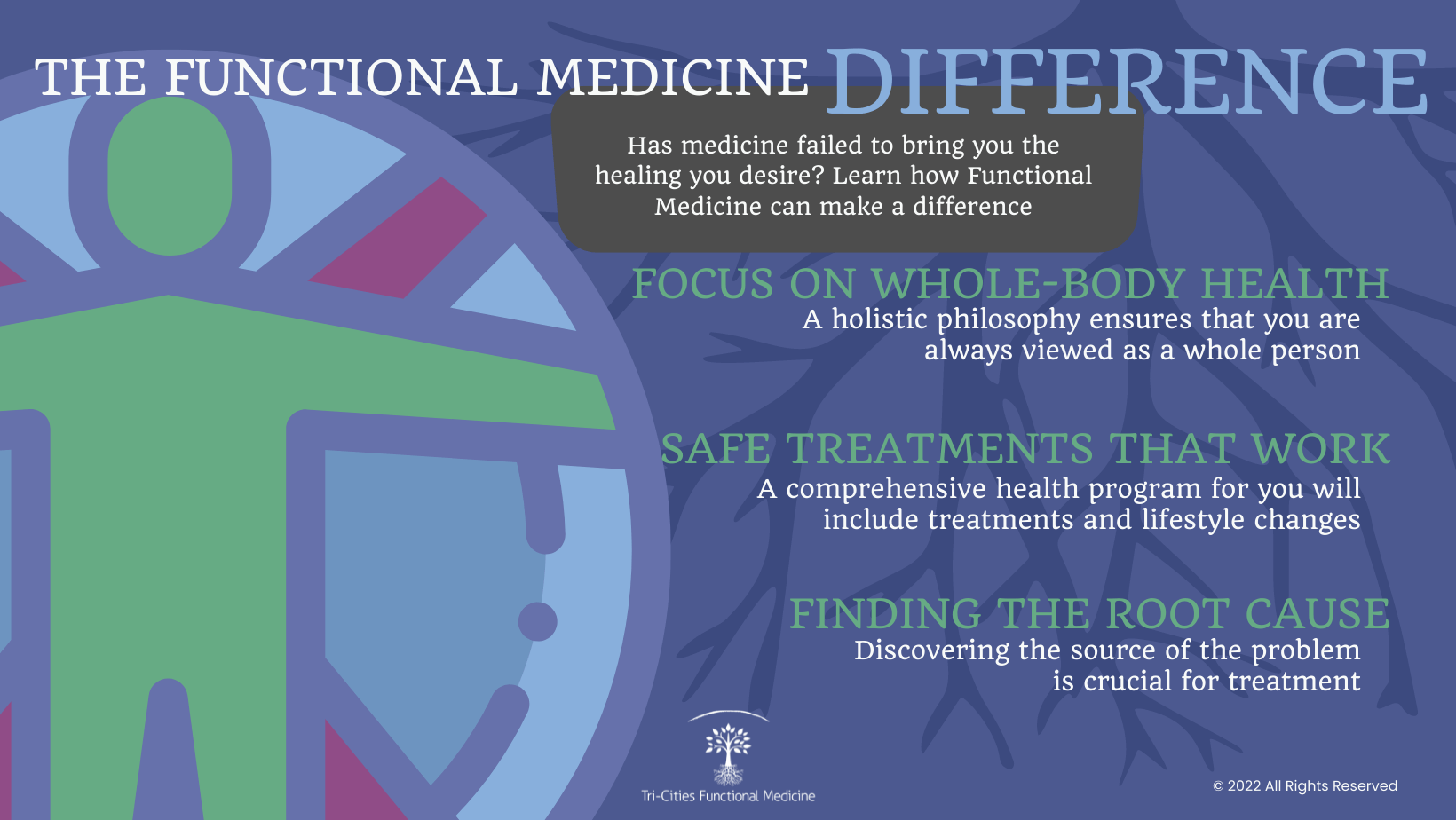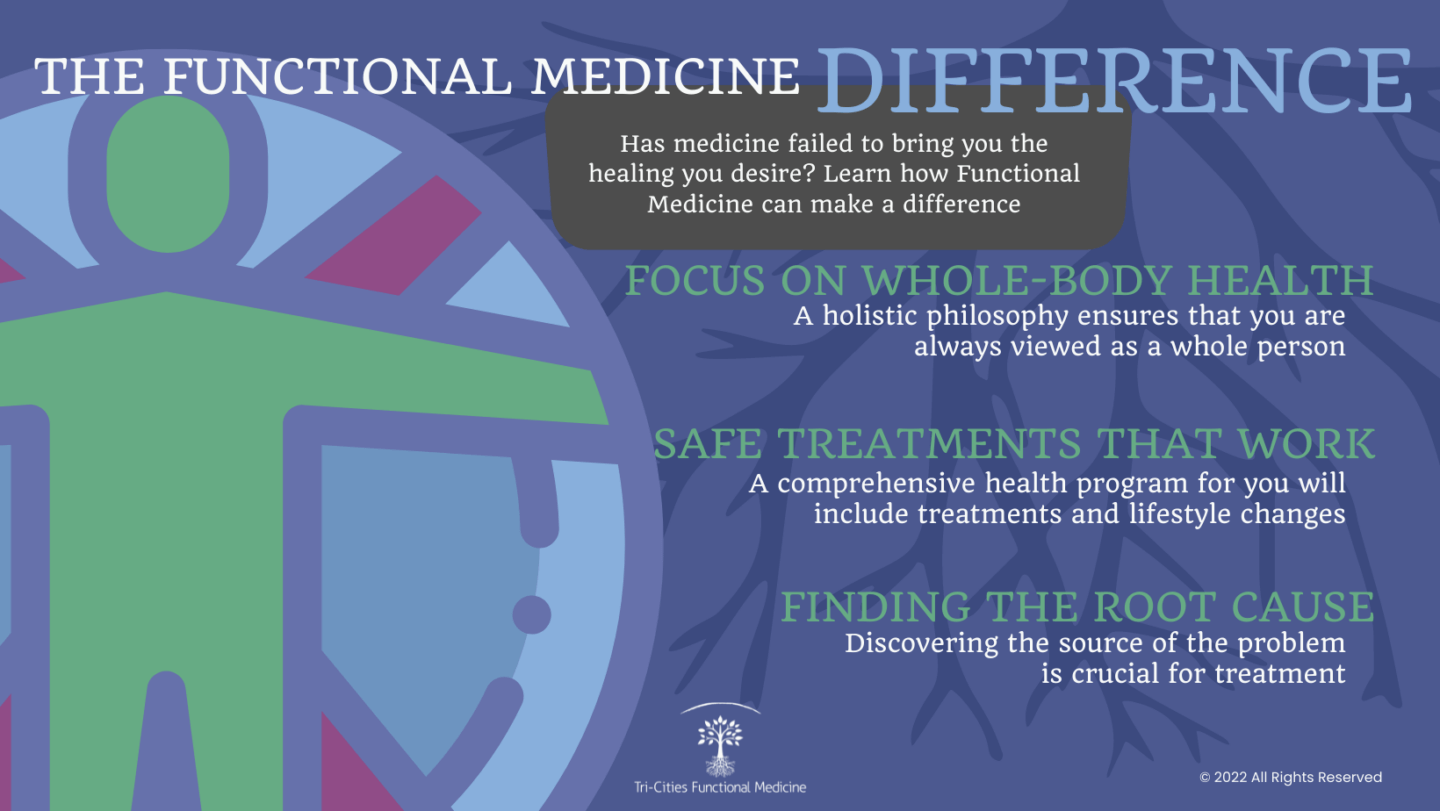 Our Functional Medicine clinic in Tennessee takes a different approach than conventional medicine. It is a holistic practice that looks for the root causes of disease and poor functioning in your body. While a medical doctor may treat you as a collection of symptoms, a Functional Medicine doctor views you as a whole person that has signs pointing to an underlying cause.
Focus on Whole-Body Health
One of the benefits of Functional Medicine is that it goes deeper than addressing one concern. Its holistic philosophy ensures that you are always viewed as a whole person who needs every body part and system to function optimally.
Our treatments at Tri-Cities Functional Medicine in Tennessee benefit your entire body. Yet, at the same time, they are designed specifically for you to heal your unique body. That means that if you have fibromyalgia, digestion problems, or thyroid issues, your doctor will create a treatment plan that includes addressing the source of those problems.
Finding the Root Cause
Finding the source of your problems is one of the most important aspects of Functional Medicine. Because FM doctors like Dr. Radawi look for the root cause of your symptoms, they can help you heal so that the signs of your illness don't keep coming back.
How do we find the root cause? Discovering the source of the problem can be a very detailed, meticulous process. It starts with taking a medical history and discussing your general health as well as your specific complaints.
The doctor then sends you to the functional laboratory for medical tests and blood work. One of the tests is a bioelectrical impedance analysis, which assesses your body's composition to find sources of health risks. Other tests, like stool analysis, hormone testing, and nutrient testing, and neurotransmitter testing can pinpoint the root causes of many symptoms. We look for ongoing infection and may also check for heavy metal toxicity.
By the end of the testing, your Functional Medicine doctor can look through your results to discover imbalances that are causing your symptoms.
Safe Treatments That Work
A comprehensive wellness program for you will include treatments and lifestyle changes aimed at healing the cause of your symptoms rather than the symptoms themselves. In the end, you will not only find greater relief from your symptoms, but also you will feel healthier overall.
Because Functional Medicine doctors start with the same training as medical doctors, they can prescribe medications if you need them. Although this is true, gradually weaning you off medicines is the goal if possible. Yet, FM doctors receive even more training after that to become Functional Medicine specialists. Some of the treatments these doctors and their clinics offer include:
Lifestyle guidance
Nutrition programs
Vitamin, mineral, and herbal supplements
Hormone therapy
Health coaching
Wellness education resources
One more aspect specific to Tri-Cities Functional Medicine that sets it apart is its concentration on the Five Pillars of Health. These five major areas that define and promote health include:
Stress and hormones
Nutrition and detoxification
Movement and fitness
Sleep
Mental, emotional, and spiritual health
Treatments in Functional Medicine are customized to you to improve your functioning by overcoming deficiencies and excesses. Your doctor works closely with you and adjusts your program as needed.
What Functional Medicine Treats
At this point, you may be wondering what conditions can be treated by Functional Medicine doctors. The truth is that, whether you need traditional medical interventions or not, you can also benefit from the holistic approach found at our Tri-Cities Functional Medicine clinic.
Doctor Radawi helps people with many different health challenges. Examples include gut and digestive problems, hormonal imbalances, and thyroid issues. He also takes a special interest in helping people heal from chronic conditions, such as autoimmune disorders and chronic pain and inflammation. Healso provides treatments for brain dysfunctions like PTSD, TBI, depression,OCD, and anxiety.
Choose Functional Medicine in Tennessee for True Healing
When you seek help at Tri-Cities Functional Medicine in Tennessee, you receive care from Dr. Joseph Radawi, MD, ABFM, and the rest of the Tri-Cities staff.
Dr. Radawi is a traditionally trained medical doctor with a decade of emergency medicine experience. The doctor's concern for addiction and chronic disease in his community prompted him to look for a better way to practice medicine. Later, he took additional training in Functional Medicine.
On the staff at Tri-Cities, you will find FM health coaches and additional team members ready and waiting to serve your needs. With an abundance of educational opportunities and adjunct therapies, you can look forward to a life of better health and a higher level of overall wellbeing.
At Tri-Cities Functional Medicine in Tennessee, you can see Dr. Radawi and his clinic staff for the ultimate head-to-toe healing experience.
Want to learn more about how our functional medicine clinic can get to the root cause of your symptoms to provide full-body healing? Take the first step:
Watch our free webinar to learn about our approach to the brain health issues you are facing.
Schedule a Free Discovery Call to discuss your health concerns and goals to see if our practice is a good fit for you.
After your discovery call – if we are a good fit, you'll schedule a consultation with our doctor to dive deeper and formulate an individualized treatment plan for you.
Tri-Cities Functional Medicine is located in Johnson City, Tennessee, and serves patients throughout East Tennessee and into Virginia and North Carolina. These areas include but are not limited to Washington County, TN, Sullivan County, TN, Carter County, TN, Greene County, TN, Knox County, TN, Bristol, TN, Holston Valley, TN, Tri-Cities, TN, Walnut Hill, TN, Elizabethton, TN, Greeneville, TN, Morristown, TN, Blountville, TN, Bluff City, TN, Kingsport, TN, Jonesborough, TN, Colonial Heights, TN, Limestone, TN, Knoxville, TN, Bristol, VA, and Abingdon, VA.