Menopause can wreak havoc on a woman's health, causing a range of symptoms that can linger on for years. However, functional medicine offers a customized solution for women in menopause. Your doctor should create a plan to bring your hormones back into balance developed specifically for you after getting the full picture of your hormones. Tri-Cities offers this Functional Medicine care in Tennessee.
Curious how functional medicine can help with hormonal imbalances? Learn more with a free webinar.
Symptoms of Menopause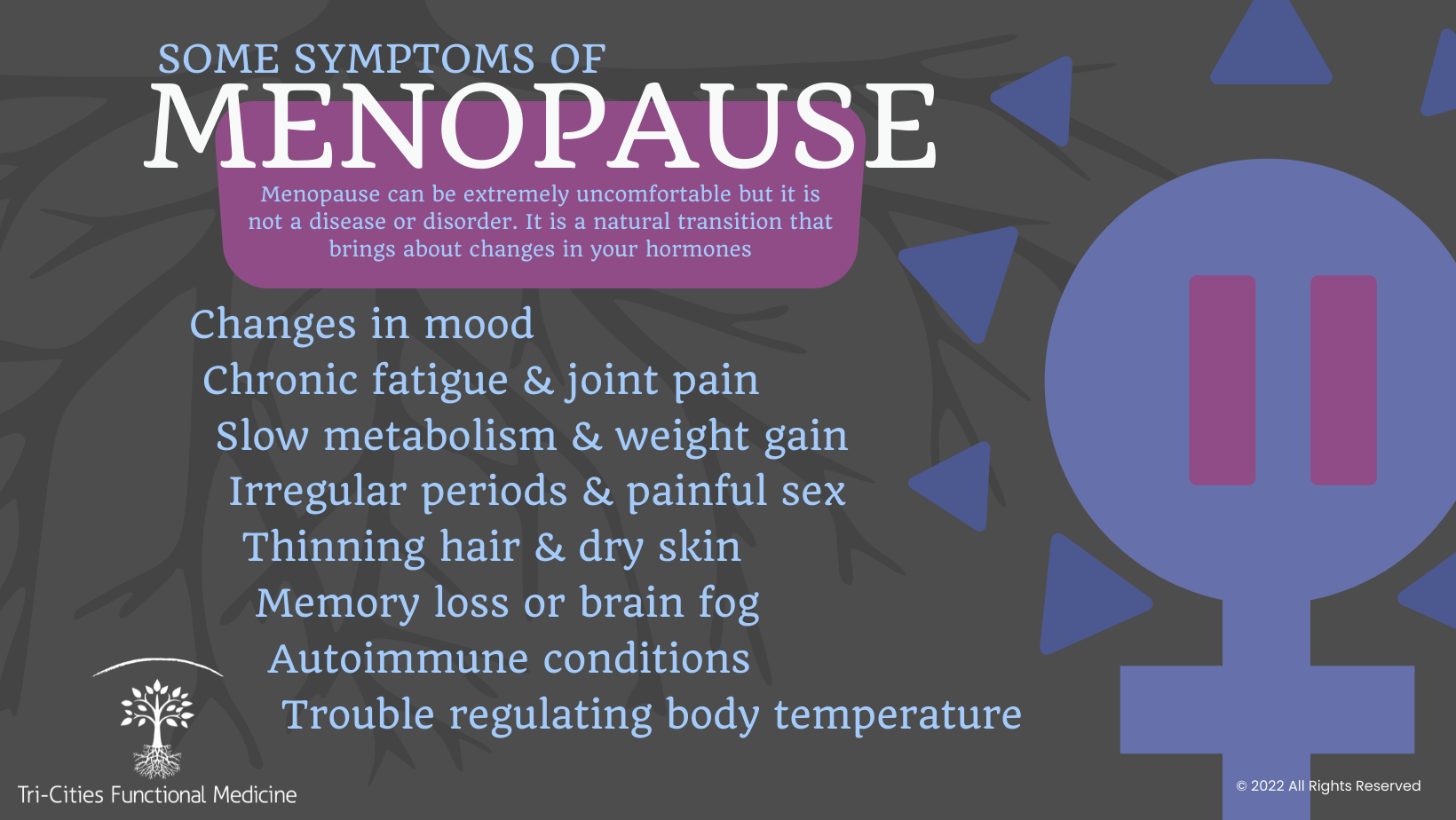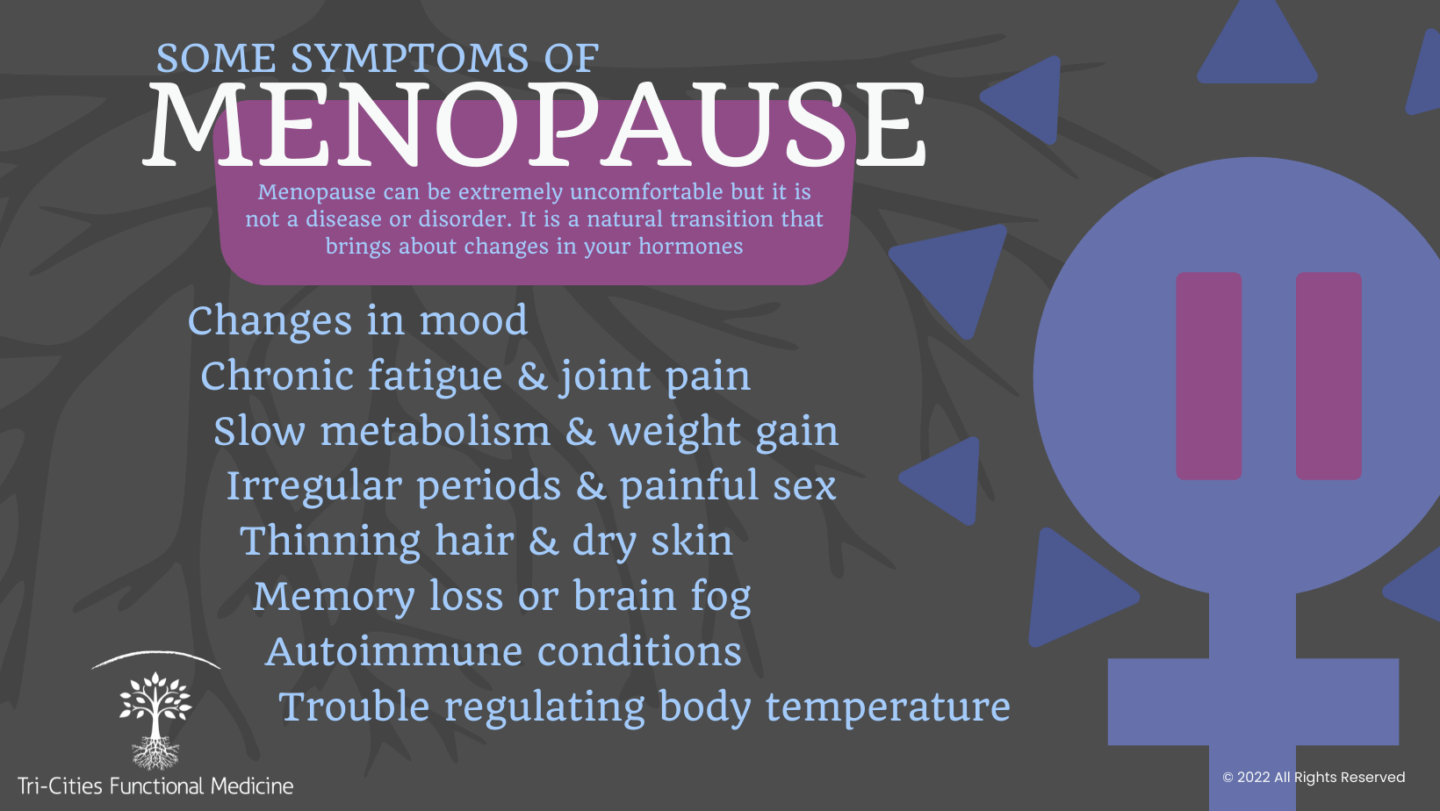 Menopause can be extremely uncomfortable and even cause health risks. However, it is not a disease or disorder. It is a natural transition that brings about changes in your hormones. Before menopause fully begins, you may notice signs of perimenopause, such as irregular periods. Your estrogen and progesterone may vary widely over the years of perimenopause and menopause, causing several symptoms, including the following.
Irregular periods leading up to menopause
Hot flashes
Sleep problems
Painful sex
Moodiness or depression
Irritability
Chills
Night sweats
Slow metabolism
Weight gain, especially around the middle
Thinning hair
Dry skin
Changes in the breasts
Chronic fatigue
Chronic pain, particularly in the joints
Memory loss or brain fog
Autoimmune conditions
Sometimes, women go through menopause with very few symptoms or even no noticeable ones at all. However, at the other end of the spectrum are women who experience severe symptoms. Your hormones are the root cause of all these changes. The goal of functional medicine is to find the source of health issues and deal with them directly. Therefore, your functional medicine doctor may suggest Bioidentical Hormone Replacement Therapy if your symptoms bother you or affect your life.
When Does Menopause Start and How Long Does It Last?
Menopause tends to begin about a year after you have your last menstrual period. It typically happens between the ages of 45 and 55. On the other hand, many factors can cause it to happen earlier, and there are two different designations for this. Premature menopause happens before you are 40 years old. If you start menopause before you are 45, you are said to have early menopause.
This transition in your hormones can go quickly or take up to 14 years to be completed. The average age for menopause to last is about seven years. After menopause is over, the symptoms begin to fade, but they may continue at this lower level for years.
Help for Women with Menopause
Traditional medicine doctors typically prescribe estrogen and progesterone tablets if women request help with menopause. However, taking these pills can lead to other health risks, such as stroke. Fortunately, there are other options. Our functional medicine clinic in Tennessee looks at the whole person, not just the two hormones of progesterone and estrogen. We look at the current levels of your hormones to create a customized plan.
Assessment
The first step in designing a Hormone Replacement Therapy plan for you is to take stock of where you are right now. To do this, we take an in-depth medical and lifestyle history and discuss your health. This will include your current symptoms, their severity, and their duration and frequency. He will also talk to you about your other health concerns and goals.
He will recommend several lab tests, looking for signs of high or low levels of any hormones that might be at the root of your symptoms. We take a full hormone panel, identifying areas of hormonal imbalance, including
Estrogen
Progesterone
Androstenedione
Pregnenolone
DHEA
Testosterone
FSH
LH
Cortisol
Thyroid
In addition, depending on your cognitive and physical health, we may suggest other tests that will make the picture clearer. Next, you will have a physical examination.
After our team has gathered all the data from the tests, Dr. Radawi will analyze the results and create a personalized Hormone Replacement Therapy plan for you.
Hormone Replacement Therapy
At Tri-Cities, we approach Hormone Replacement Therapy differently than traditional doctors. Instead of using HRT pills made from the urine of horses or other synthetic sources, we choose bioidentical hormone replacement therapy (BHRT). These hormones are made from plant sources that are very much like the hormones your body produces on its own before menopause.
Besides the type of hormone formulations, there is another difference. As a Functional Medicine clinic in Tennessee, we look at you as a whole person. We identify all the hormones that are at low levels – not only estrogen and progesterone. Then, the doctor prescribes a bioidentical hormone formulation that will increase all the hormone levels you need to live a healthy, comfortable life during and after menopause.
A Complete Program for Hormone Function Improvement
Because many choices you make can have a profound impact on your hormones and overall health during menopause, health coaching may be beneficial to you. Our nutritional guidance during this time can assist you in choosing the right foods for your changing body. We can recommend supplements and nutraceuticals to help you get the nutrients that your diet cannot supply, as well. Also, included in our programs, you have full access to our full-spectrum infrared sauna and attend our group classes to learn more about the lifestyle factors that affect you and how you can implement the Functional Medicine education to help.
Tri-Cities Functional Medicine in Tennessee and Menopause
Improving your hormone function during menopause can be a complex undertaking. The good news is that you can get the help you need from Dr. Radawi and the entire Tri-Cities Functional Medicine team in Tennessee. With a holistic view of medical problems, we search for the specific root of your problem and address your issues in the most direct ways possible.
Menopause need not be a terrible thing. You can move through it gracefully when you have appropriate functional medicine care. At Tri-Cities, we not only offer treatments and therapies, but we also empower you to take charge of your health, your body, and your life.
Want to learn more about how our functional medicine clinic can help you with the symptoms of menopause? Take the first step:
Watch our free webinar to learn about our approach to the hormone issues you are facing.
Schedule a Free Discovery Call to discuss your health concerns and goals to see if our practice is a good fit for you.
After your discovery call – if we are a good fit, you'll schedule a consultation with our doctor to dive deeper and formulate an individualized treatment plan for you.
Tri-Cities Functional Medicine is located in Johnson City, Tennessee, and serves patients throughout Tennessee and into Virginia, North Carolina, West Virginia and Kentucky. These areas include but are not limited to: Washington County, TN, Sullivan County, TN, Carter County, TN, Greene County, TN, Knox County, TN, Bristol, TN, Holston Valley, TN, Tri-Cities, TN, Walnut Hill, TN, Elizabethton, TN, Greeneville, TN, Morristown, TN, Blountville, TN, Bluff City, TN, Kingsport, TN, Jonesborough, TN, Colonial Heights, TN, Limestone, TN, Knoxville, TN, Bristol, VA, Abingdon, VA, Grundy, VA, Asheville, NC, Boone, NC.