Celiac disease is an extremely common immune disorder. Entire grocery store sections are devoted to gluten-free foods to accommodate all the many people who live with this disease. After all, nearly everyone knows whether they have the disease or not; gluten-free diets are the go-to treatment for this disease. However, a complete treatment plan can go beyond symptom relief. With a comprehensive gut health plan, you can gain a higher level of gut health and overall well-being.
Ready to move on to better gut health right now? Watch our free webinar on gut health today.
Celiac Basics
As mentioned before, celiac disease is an autoimmune disorder. This type of disorder happens when your immune system attacks your own body. In the case of celiac disease, the immune system attacks your digestive system. Specifically, it attacks the lining of your intestine.
The inflammation that comes with the disease affects your digestion, causing chronic pain, diarrhea, and other troublesome symptoms. Because your body can't get the proper nutrition from the foods you eat, you end up with chronic fatigue, weight loss, and other problems that you might not connect with your gut.
The most advised solution to celiac disease is simply to remove gluten from your diet. This usually prevents the worst of the symptoms. However, for a complete return to your optimal gut health, our Functional Medicine clinic in Tennessee offers a broader, more comprehensive program.
Diagnosing Celiac Disease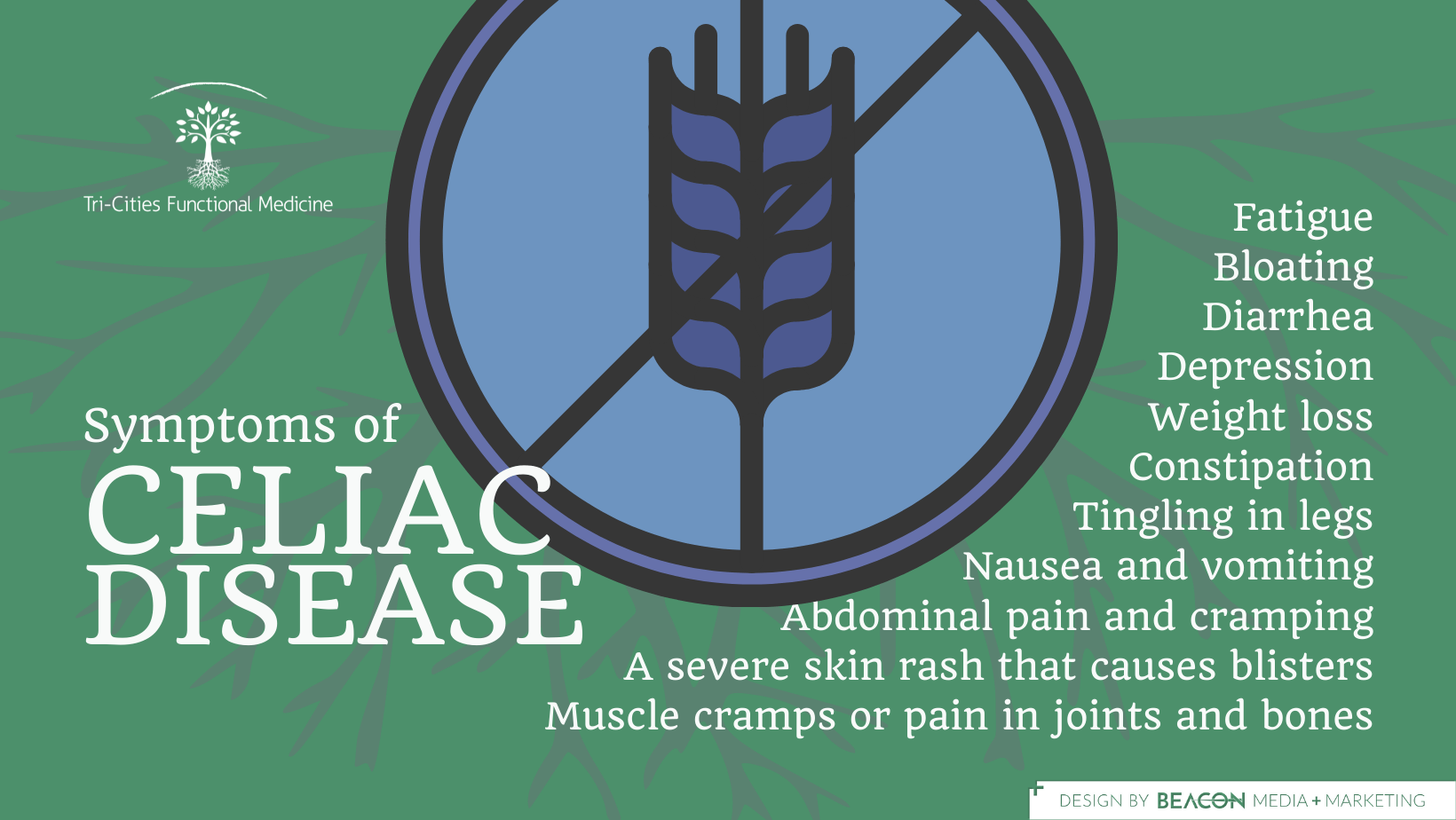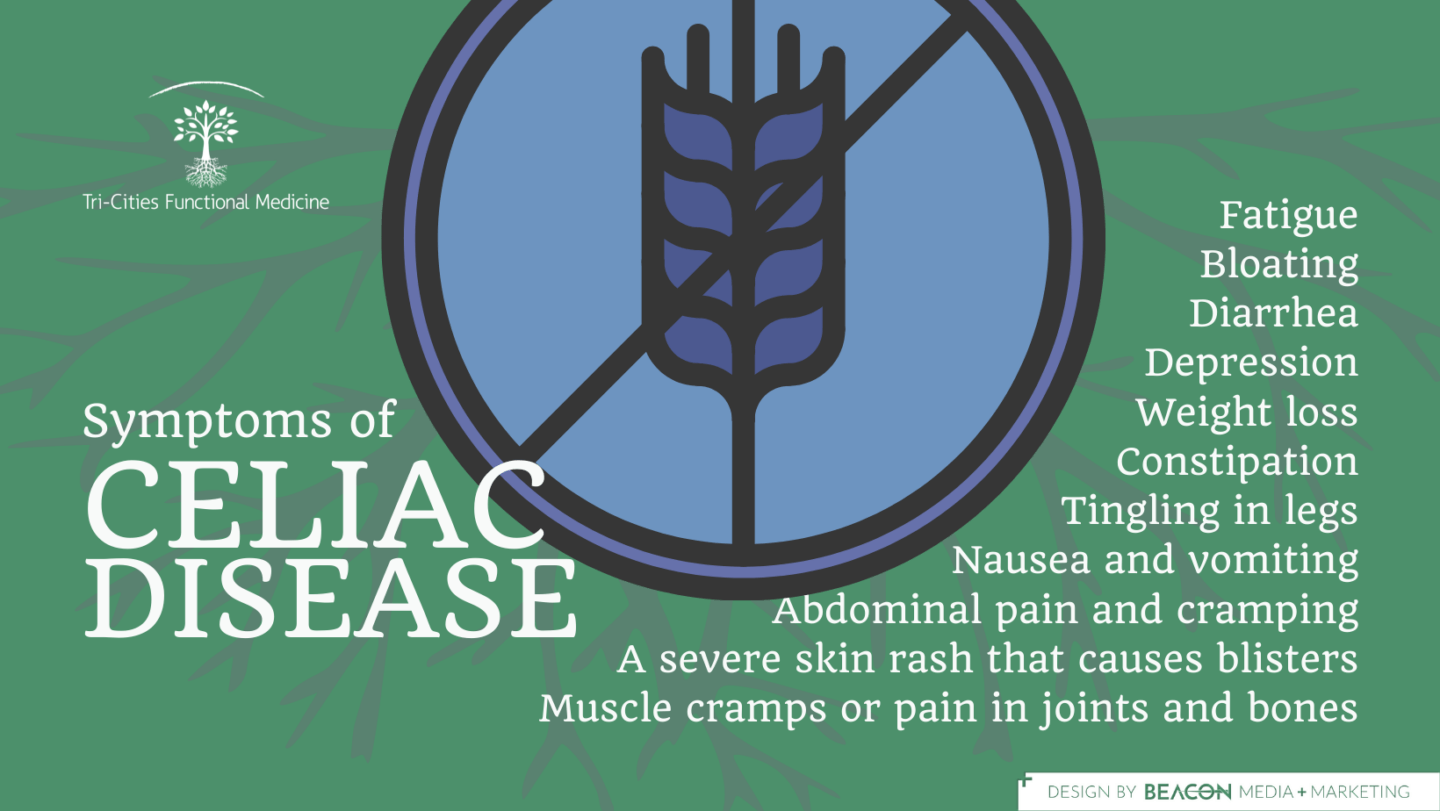 If you might have celiac disease, the best thing to do is seek help from someone who can make a diagnosis and help you get to the root of the problem. But first, you need to recognize signs that you have a health problem.
Celiac disease symptoms include:
Diarrhea
Bloating
Abdominal pain and cramping
Nausea and vomiting
Constipation
Weight loss
Fatigue
A severe skin rash that causes blisters
Muscle cramps or pain in joints and bones
Tingling in legs
Depression
Whether you come to Tri-Cities Functional Medicine to get a diagnosis or already have one, our Functional Medicine doctor assesses your condition to determine exactly how it is affecting your gut health and overall well-being. This process involves not only identifying your symptoms but also understanding their severity and frequency. In addition, we need to know about your current nutritional habits. Then, your Functional Medicine Tennessee team can use all this information to form a clear picture of your current state of health.
Getting to the Root of Your Celiac Symptoms
A diagnosis to someone with celiac disease is a name to call your condition. Many people find it comforting to know what to call a problem. It also tells the doctor a bit about what problems might arise through the course of the disease.
Yet, more important than a diagnosis is finding the root cause of your physical distress. Since research hasn't yet proven what causes autoimmune disorders, conventional medicine doctors typically set that question aside and proceed with interventions.
Our Functional Medicine Tennessee doctor seeks to find the root cause of any condition, whether celiac disease or some other medical issue. Rather than focusing on what causes celiac disease in general, we take it down to the individual level. We assess health at a cellular level, your current nutritional choices, your lifestyle, and many other factors unique to you. Then, we can discover the deeper causes of your disease. Only then can we craft the ideal program for you.
Functional Medicine Celiac Disease Programs
As with every other health condition, celiac disease is only a small part of your overall health. At Tri-Cities Functional Medicine in Tennessee, we see the body as a whole. We recognize the interconnectedness of your entire body and each of its parts.
Therefore, when we treat celiac disease, we address your symptoms with an eye to improving overall health in your gut and throughout your body.
Of course, wherever your body has dysfunction, we give extra attention. At the same time, we choose treatments that will improve both your gut health and the rest of you. This is a different approach than conventional treatments with certain celiac medications that sometimes make overall health worse..
Managing Triggers with Dietary Changes
The first practical step to get free from celiac disease is to learn to manage your triggers. This begins with a gluten-free diet. Of course, you can find countless gluten-free recipes online, such as gluten-free cookies and bread. However, bread and sweets won't supply your total nutritional needs.
Therefore, at Tri-Cities Functional Medicine in Tennessee, we include nutritional services in our celiac disease programs. Our doctor and health coach will provide a customized nutritional plan to reduce celiac disease triggers and improve your gut health. They advise you on what foods will improve your symptoms and overall health. In addition, they may recommend supplements and nutraceuticals, such as probiotics.
Dealing with Stress
Stress can trigger a wide variety of symptoms for people with many different diseases. However, stress is especially harmful to people with celiac disease. Because the gut is so closely connected to the nervous system, high levels of stress can easily trigger the breakdown of your gut lining causing diarrhea, nausea, and other physical symptoms of digestive problems.
So, we put a high priority on helping you transform your stress. Your program will include education and support to help you implement stress reduction techniques. In addition, you can step into our Relaxation Room or Full-Spectrum Infrared Sauna for easy, effective stress relief. When your mind is calm, your body responds with increasing health.
Getting Help for Celiac Disease
Tri-Cities Functional Medicine in Tennessee offers whole-health treatment for celiac disease, gut health issues, and a wide variety of other health challenges. With the esteemed Dr. Joseph Radawi, MD, at the helm, our clinic seeks to help people find long-term solutions that go beyond symptom relief to bring not only relief but also optimal health.
Tri-Cities Functional Medicine in Tennessee is making its presence known with its disease intervention approach that brings overall, lasting health. This type of medicine not only provides expert care and guidance. It empowers you to take charge of your health, giving you what you need to live the life you desire most.
Want to learn more about how functional medicine could help you reverse your celiac disease and move toward optimal gut health? Take the first step:
Watch our free webinar to learn about our approach to the health concerns you are facing.
Schedule a Free Discovery Call to discuss your health concerns and goals to see if our practice is a good fit for you.
After your discovery call – if we are a good fit, you'll schedule a consultation with our doctor to dive deeper and formulate an individualized treatment plan for you.
Tri-Cities Functional Medicine is located in Johnson City, Tennessee, and serves patients throughout East Tennessee and into Virginia and North Carolina. These areas include but are not limited to: Washington County, TN, Sullivan County, TN, Carter County, TN, Greene County, TN, Knox County,TN, Bristol, TN, Holston Valley, TN, Tri-Cities, TN, Walnut Hill, TN, Elizabethton, TN, Greeneville, TN, Morristown, TN, Blountville, TN, Bluff City, TN, Kingsport, TN, Jonesborough, TN, Colonial Heights, TN, Limestone, TN, Knoxville, TN, Bristol, VA, and Abingdon, VA.